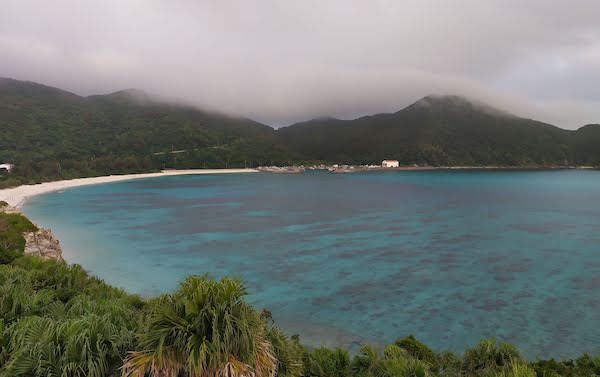 TA mere stonesthrow from the bustle of Okinawa's largest city of Naha, the Kerama Islands are a world completely apart, and you would be forgiven for believing they are – geographically, culturally, and certainly in their tropical paradise appearance – a whole other world. 

The largest of these islands, and the quickest to get to, is Tokashiki. But don't let the ease of access put you off: the place is what many, including us, may conjure up in our city-slicking brains as the perfect beach paradise. 

You've got white sand beaches, calm, turquoise waters full of sub-tropical fishes (waters known reverently as Kerama Blue), scraggy jungly bits with singing birds and brimming with okinawan flora. 


Where is Tokashiki?
As we mentioned, the island is close to Naha. You're just over 30km to the city in basically a straight line. 

As the easterly point in the complex, coming from Naha, the island marks the beginning of the Kerama complex which carries on to the west with the Zamami islands.


How do I get to Tokashiki?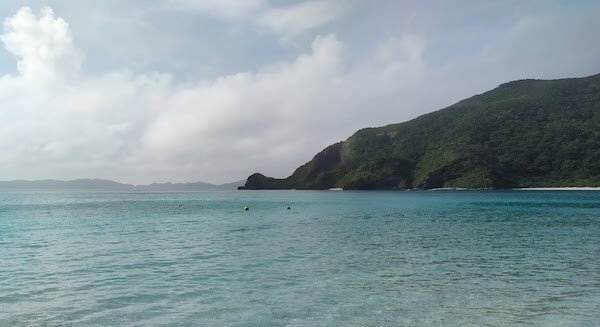 It is easy to get there! 

Coming from Tokyo to Okinawa can be achieved via reasonable flights (Jetstar and Vanilla Air often have the best deals, though JAL and ANA can do too, and depending on where you start, often have easier connections via Haneda Airport). 

Assuming you managed to get to Naha (那覇市) – Okinawa's capital and largest city, from the airport you'll need to get to Tomari Ferry Terminal (とまりん).  

Access is either directly by taxi (1200 JPY/15 minutes), bus (they wait right outside the airport, it's easy!) or via the Okinawa City Monorail/ AKA Yui Rail (沖縄都市モノレール / ゆいレール … Okinawa's only train. For Tomari your nearest stop is Miebashi (aka 美栄橋, which takes 300 JPY/14 minutes along with a 9 minute walk).

There are 2 boats from Tomari Port, a "fast boat" that takes 70 mins, and a "slow boat" coming in at 100 mins. To be fair, it's best to select these based on your schedule rather than the :

Marine Liner Tokashiki is a fast boat, running 2 to 3 times daily at the time of writing (Round trip just under 5000 JPY) Ferry Tokashiki allows you to take cars/bikes with a round trip of just over 3000 JPY. 

In most cases it's really just up to your schedule as the journey times aren't going to cause too much headache either way.

Up to date info is here on the official Tokashiki travel website, and it's worth keeping on eye on that site, and using the contact/booking there as things can get busy in the peak holiday seasons (early May/mid August).
Useful bits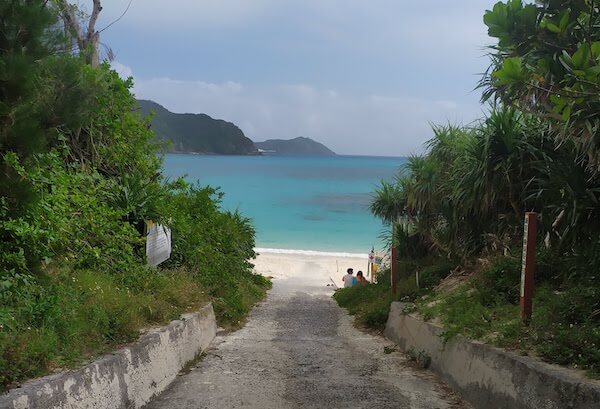 The island may seem large compared to its neighbours but its really only around 7km long by 1/1.5 km wide (in our non-scientific assessment). This means getting around is fairly easy, but not always as easy as it looks, due to narrow roads, steep hills, and lack of infrastructure.   
So, you've come to a paradise island in Okinawa, chances are the beaches will be pretty useful …  
Aharen Beach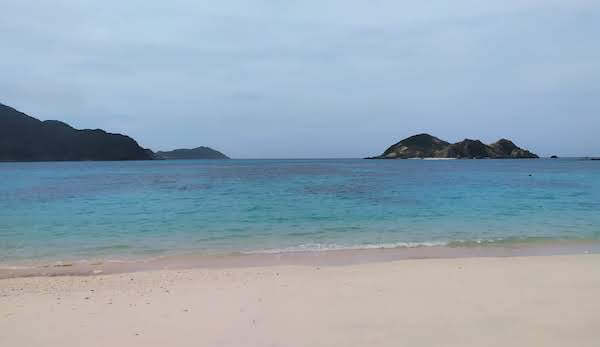 On the south west of the island, this is probably the most popular and built up of your options, but don't worry – it's long enough for everyone and you will easily find a little piece of peace.  
It's popular because it's easy to get to – a ferry   
There's a central lifeguarded area (no doubt reassuring for those of you who have a jellyfish-a-phobia) and another to the south bank of the beach, presumably used in times of overcrowding as it was not manned when we went.   
Sand is clean, ocean is clear. The little sub-tropical fish are out in full force under the beaming glare of the sun. If you want to look at them in the main area you will need to wear a lifejacket if you bring mask and snorkel.   
Easily cheated if you use small swim goggles instead.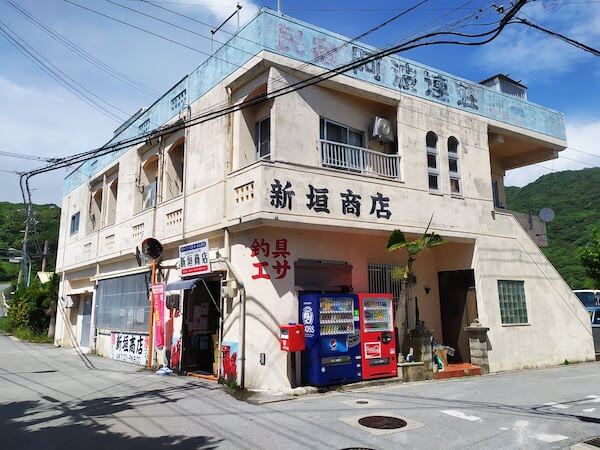 You can very easily sort out the best digs going – camping – right next to the beach at 500 JPY a night per person. There's even your choice of in the shade of the small beachside wooded area or an open green pasture with barbeque area.   
Bangin.   
You'll be well catered for with restaurants here as well, with several just up the main street offering everything from delicious Okinawa noodles to pizza with Okinawa golya on top. Well, be rude not to, eh? That's found at  We recommend the noodles at 喰呑屋バラック.  
Also worth spending a mere 2000 JPY on booking a banana boat to take you to the close little island (a few minutes ride only). The snorkelling off there is calm, the fish are pretty, and there are some rocks to jump off, too.   
Tokashiku Beach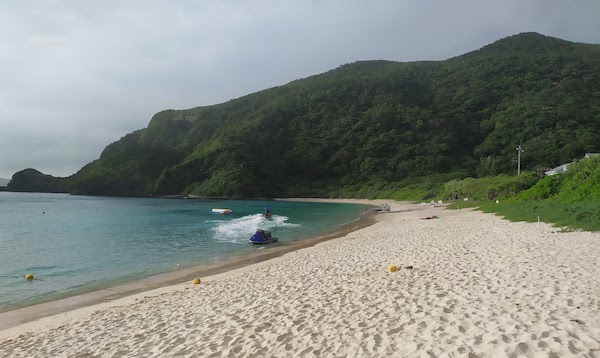 The vistas from this panoramic beach are pretty breathtaking, and definitely worth a visit. Should you be staying on the island, it's worth bearing in mind that the regular buses from the port don't stop here.   
It's about a half hour walk from Aheren, uphill (and then then) along narrow roads, which in the heat of the day could be a challenge. You're rewarded with an impressive view from above as you make your descent to the water.  We  
found that the fish and visibility was better over the hill at Aharen, but the peace and nature here – not the mention transparent seas – made it worthwhile.   
Buses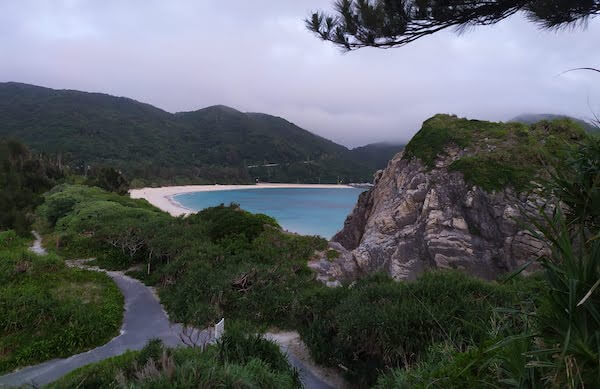 As mentioned, there are buses timed to coincide with the boat arrivals that will ferry you to Aharen. They're cheap (few hundred yen) and quite fun, though get into a bit of a tight squeeze when things are busy.   
They leave the beach a good while before the next ferry leaves so you need to get there on time or you are maybe stuck in paradise for another day. What a shame?   
Overnight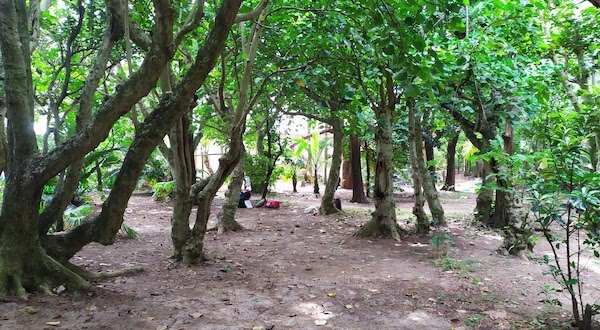 Being the intrepid sorts we are at Swimming in Japan, of course we look nowhere else but the amazing campsite at Aharen beach mentioned above. There are a range of other options indoors too if that's more your thing.  
In fact on the other end of the scale there is
Kerama Terrace
a few streets back from the beach (ケラマテラス). It's about 50,000 JPY a night at the time of writing and has a beautiful garden/lounge space with hot tubs. We were tempted!