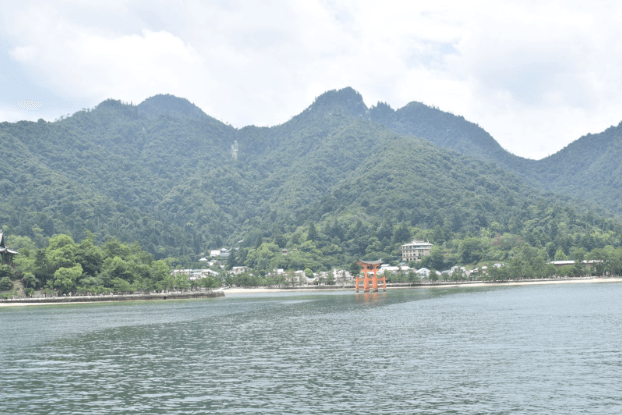 Miyajima (宮島) is a reasonably small island (about 3km wide by 6km long) in Hiroshima Bay. The island is especially famous for its unique shrine and shrine gate (torii), which appear to float on the water during high tide.

Miyajima means "shrine island" and that's what most people call it, but the island is also known as Itsukushima (厳島), so be careful when you're reading maps!

If you're planning on spending time in Hiroshima you probably already know about Miyajima, and it's no doubt on your hitlist along with the Peace Memorial.

The island's a solid day trip from the city and has lots to offer: religious sites, a mountain (Mount Misen (弥山)) with a cablecar and panoramic views of the bay, forests, nature reserves, a shopping street with delicious foods, a folklore museum, and … deer roaming free everywhere.

First established as a Shintō religious site in the 12th Century the island is now UNESCO World Heritage certified. This means it gets supersized crowds at all times of year. Be prepared!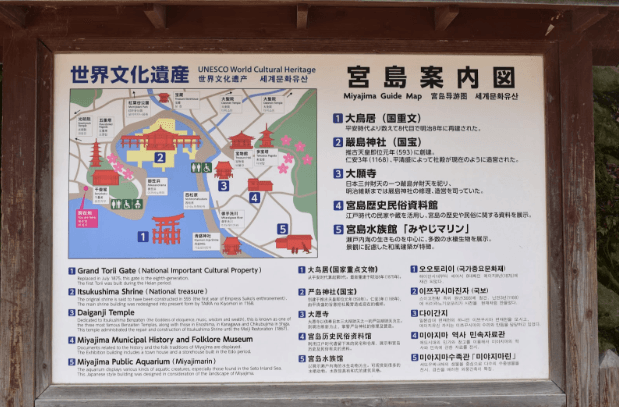 We aren't so interested in that stuff on its own though, for us the main question is "but can you swim there?"
The answer is, yes you can.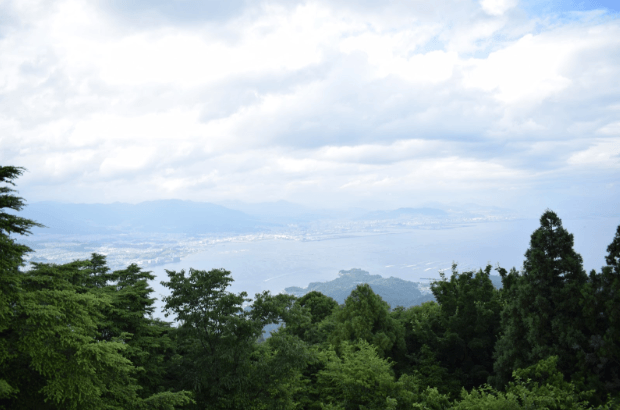 Perhaps the most famous actual 'beach' is in Tsutsumigaura Nature Park (包ヶ浦自然) which has a 700 metre long stretch of attractive sand, with some nice camping accommodation and pretty good sea to swim in.
That's on the east side of the island, and seeing as most people visit on a short day trip we will stay closer to the main shrine within convenient walking distance for you to tick off the main draws and then cool off with a quiet, more open-water dip. It's a little silty and cloudy in there, but hey!
We've seen worse.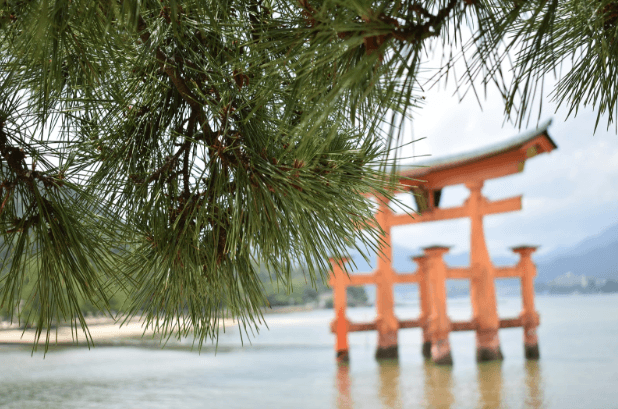 Where is Miyajima?
Miyajima is located in the west of Hiroshima Bay (広島湾), it's a calm body of water which skirts this part of western Honshu (Japan's main island), and it's dotted with tiny islands.

The shrine and torii are just across a short ferry passage from the mainland, and it's just where the ferry leaves you that you'll find the main attractions.
It's easily possible within a day to eat really well, go up the mountain, explore the foods (and charm) of the shopping street and of course, walk around the shrine. After you've done that, and you just want a swim, head along the single coastal road, westbound from the shrine.
There are a series of small sand-beaches and gently inclining bays along this road, all of which are usually completely deserted even in high season when the island is mobbed. Depending on how far you want to walk and how adventurous you are feeling you can just take your pick.
This one is just west of the shrine, and aint bad, eh?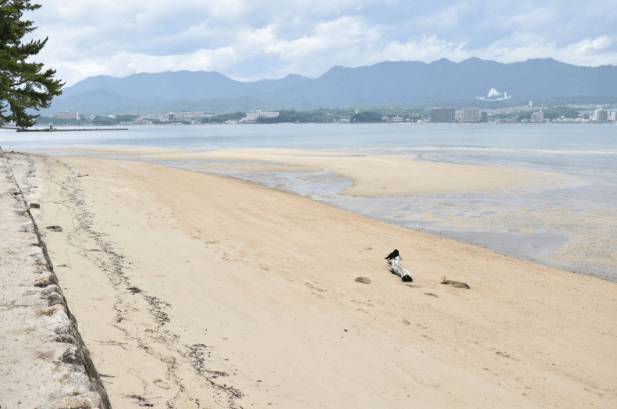 Depending on the tides, the sea can be quite low and far away for actually swimming here, though. Similarly, a couple of hundred metres west you'll find a muddy patch of sand, (we might call it a mudflat if we weren't feeling generous).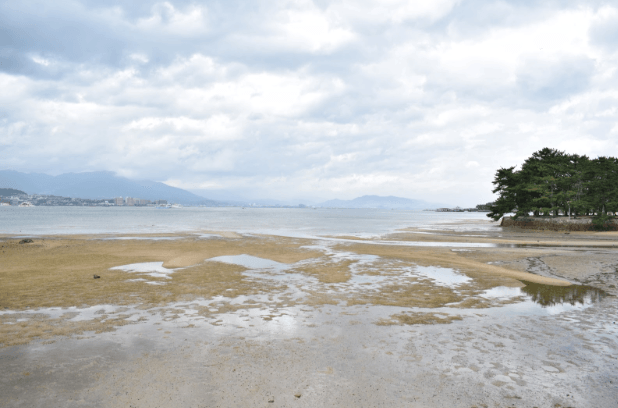 If you keep going along the island to the west there's a very peaceful and quiet little botanic garden, look out for this sign: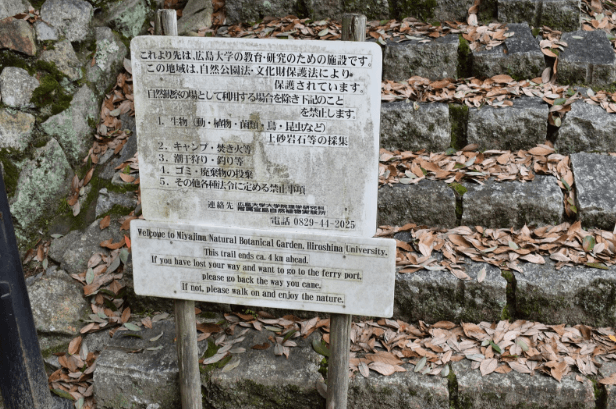 Right next to that there's a couple of private beaches which will probably be deserted, and yes may not win any awards for being the cleanest or most picturesque of whitesand bays, but are more than adequate for a swim. The water is calm, and you'll have the place to yourself, just watch out for plantlife!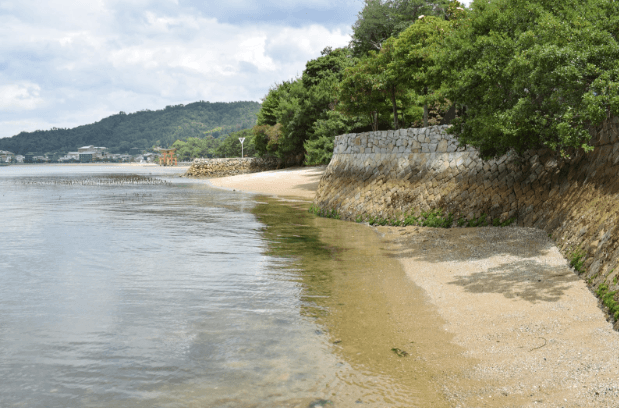 Deeper, clearer water (and some jumping potential!) is to be found nearby around these steps, listed as 'Miyajima Visitor Berth' on the map.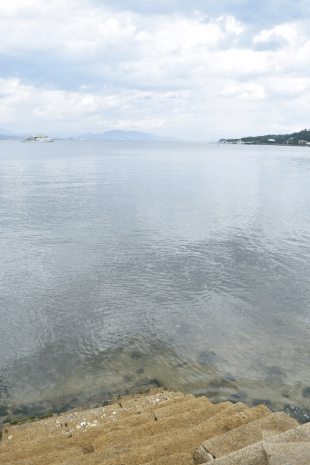 You could also head east of the shrine as in this fair, sandy beach, but you're very exposed to the crowds and it might get you in trouble so. The island is a very important religious site, and people are often paranoid about swim safety in Japan.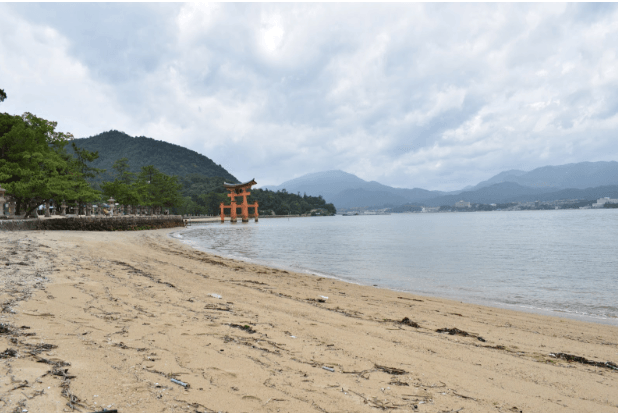 How do I get to Miyajima?
If you're visiting Japan with a JR pass, the good news is your entire trip is covered - including the ferry. From Hiroshima Station (広島駅) it takes around in total.

Take the JR Sanyo Line south-west to Miyajimaguchi Station (宮島口駅, 25 minutes). From there you've an easy transfer on foot to the ferry port. The ferry is quick and fun and only lasts about ten minutes, so open your beer immediately.

From your arrival on the island the only obstacle to swimming is how far you want to walk away from the other tourists.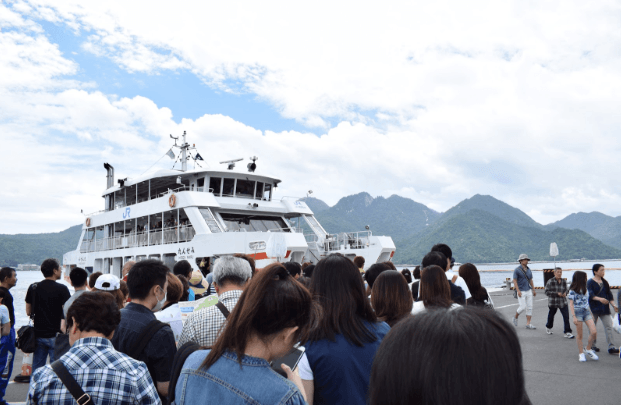 If you don't have a JR pass don't worry it's not too expensive anyway. The train is 410 JPY and the ferry is a mere 180 JPY.
Be careful about missing the last ferry, though a night on a beach in such a fine place should surely be approached as an opportunity rather than a problem.
Useful bits
If you see signs like this one, fear not - they are telling you not to take the shellfish home! It's forbidden - don't do it!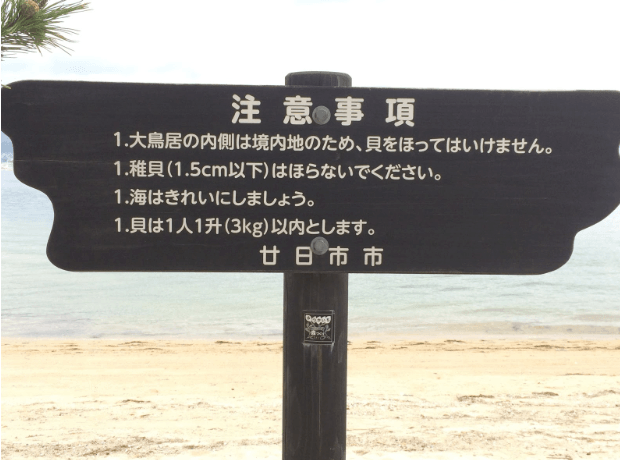 No mention of swimming … but then the strange thing about this island is that aquatic opportunities seem to be the last thing on anyone's mind. Perhaps best we all keep things low key so as to make sure next summer they add in "no swimming".
Miyajima is famous for two foods, kaki (oysters) and manju (sweet Japanese cakes). Both are recommended, and both can be eaten fried. After your swim you might feel like a hot meal, head into the main drag and try the oyster curry?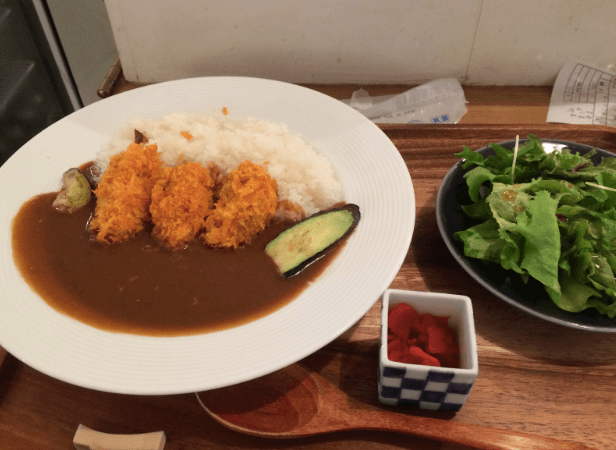 With so many high quality restaurants to choose from we'll let you choose from what's on offer.
Do trek up Misen-san, it's rewarding once you get the view from the top, and you can take the cablecar down if you're in a hurry for another swim.