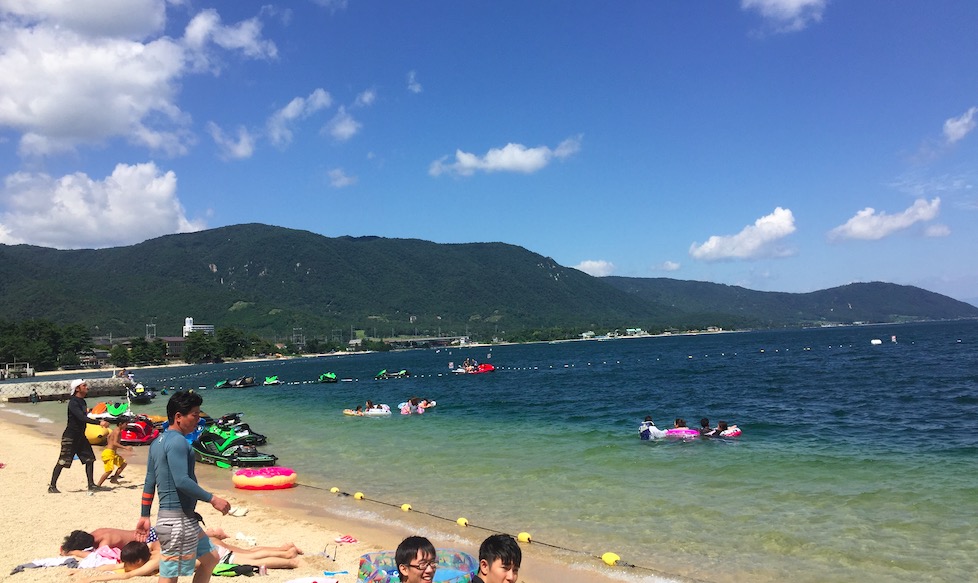 Lake swimming in Japan at best a specialized pursuit, and at worst a most definitely forbidden activity in the eyes of many.

There are some notable exceptions to this rule, and Lake Biwa, aka Biwako (琵琶湖), provides Japan's best-known example of a freshwater lake housing sandy beaches, swimming, and a carefree atmosphere, all surrounded by lush mountain scenery and pine trees.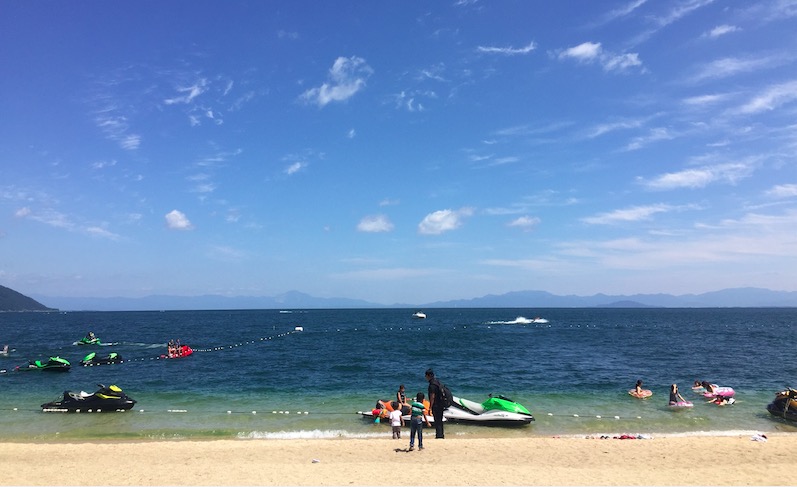 The lake is surrounded by a nice yellow-sand bank, which though not fine-fine grained, more than makes up for this with the way it paints the water so blue under the sun.
Biwa is also - trivia heads - Japan's largest lake, at around 670 km², which means there are ample opportunities to swim. Did we already say it's only half an hour from central Kyoto!?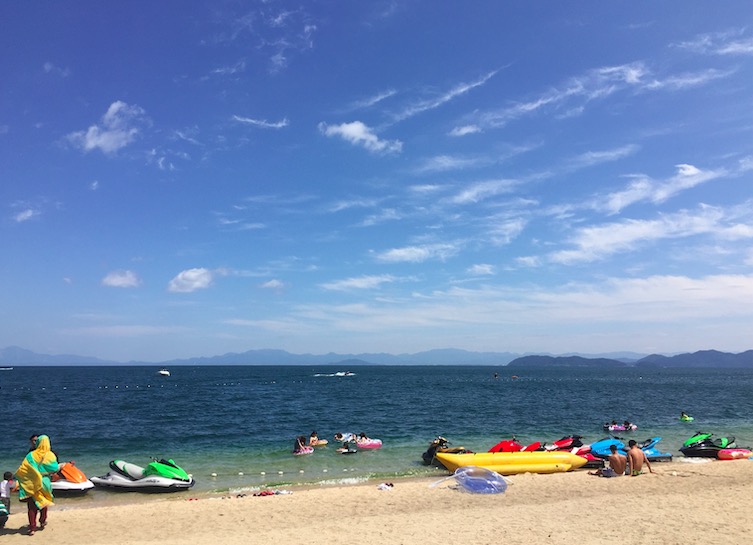 The Herculean task of covering the whole place would be a website in itself, so far now we'll introduce what we reckon is a fine starting place, in the northeastern shores.
Where is Lake Biwa ?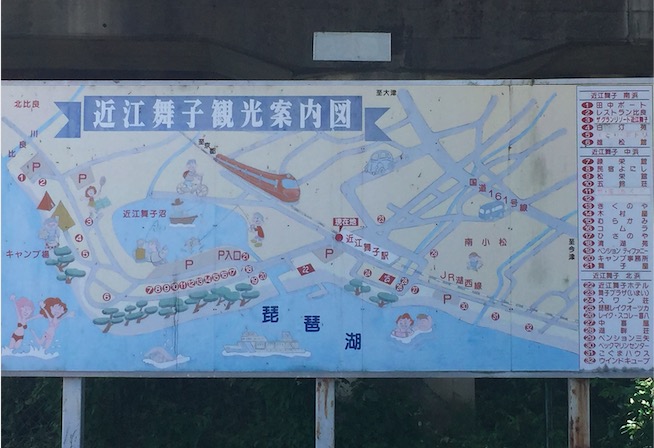 Biwako's prefecture is called Shiga (滋賀). In fact, one might say Shiga's lake is called Biwako because this landlocked state in the central Kansai region, a stonesthrow from Kyoto, owes its very identity to the lake.


We recommend the area around Omi-Maiko Station (近江舞子駅) as a fine starting point for swimming beach exploration. Well, with a place called Omi Maikochuhama Swimming Field Office (近江舞子中浜水泳場事務所(南小松自治会) nearby, we couldn't not, could we?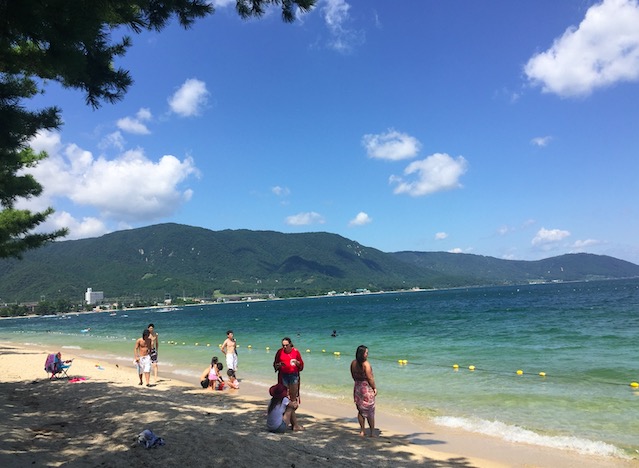 If you squint your eyes, Omi-Maiko Nakahama Beach Resort (近江舞子中浜水泳場) and the long, long stretch of sand surrounding it could quite easily be a paradise ocean beach somewhere in the South Pacific.
How do I get to Lake Biwa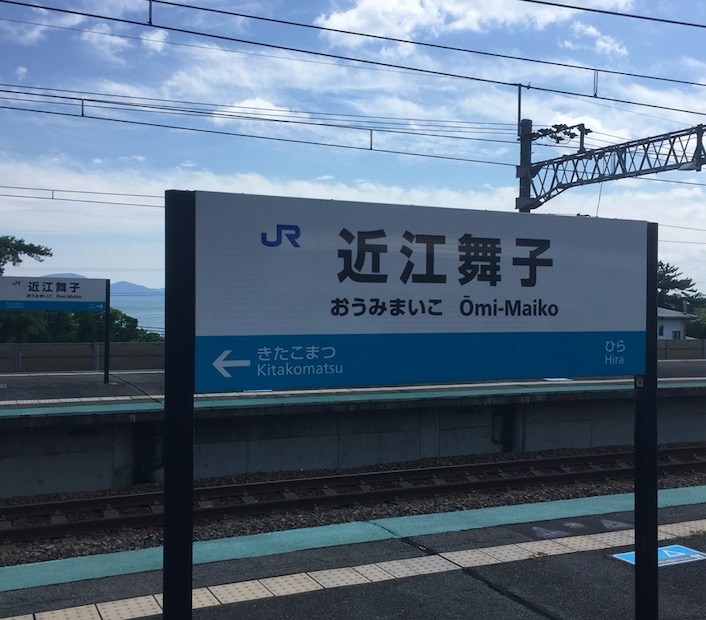 Just board a train at Kyoto station and you're at Omi-Maiko Station directly in 28 minutes if you catch the right train (and just over 40 minutes in the worst case scenario). The scenery is nice too. Board the JR Tokaido-Sanyo Line heading north, it's a mere 670 JPY each way, and leaves regularly.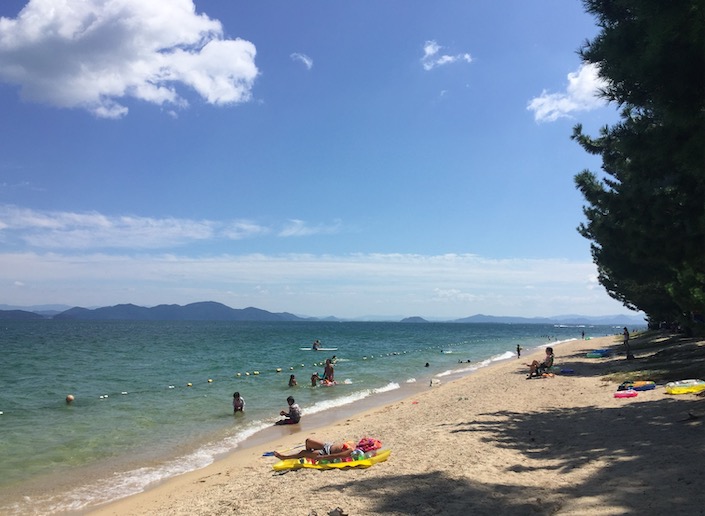 Driving will also take about 30 minutes from Kyoto, and there is parking available alongside the lake. Obviously, the beauty of driving means you can take some detours and check out some more of the Super-Lakes shores as you go.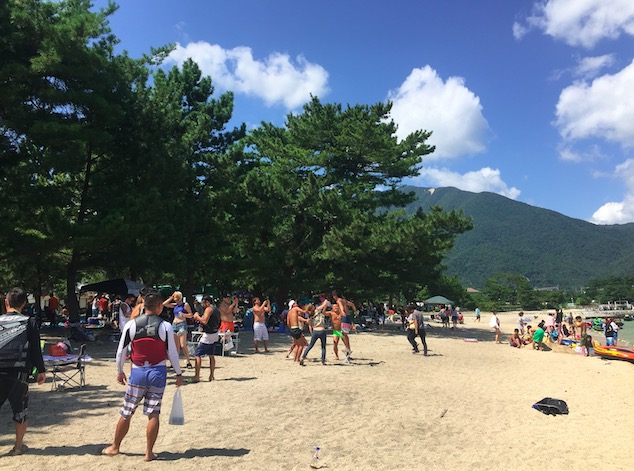 From the station it's an easy walk of a few hundred metres to the wide stretch of sand at Omi-Maiko. Walking around the bay to your right, there's the nice, though short, south-facing Out corner of Omatsu-zaki (雄松崎) Beach further down, and more great spots beyond that, facing east.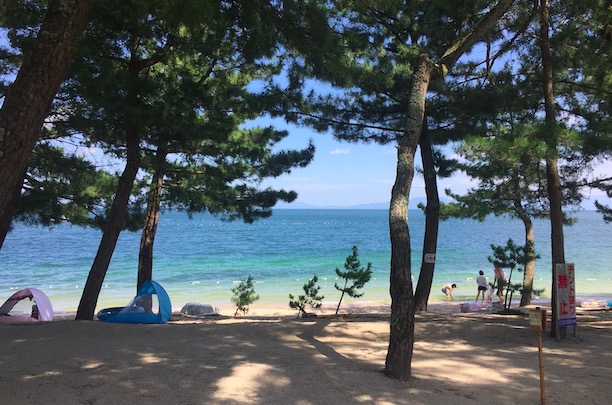 Walk down, southbound for a couple of kilometres towards to Shiga Station and you'll pass a few belters! These include the magnificent Matsu-no-Ura Beach Resort, and Aoyagi-Hama Beach Resort 青柳浜水泳場), with oodles of sand, coniferous trees, and clear waters. You should be able to find your little private enclave somewhere.
Useful bits
The water can get really warm in the summer, though out of season things can get chilly. In fact, this part of Japan gets cold and snowy in mid-winter, so you should take a wetsuit.
If you really want to escape Kyoto (and we recommend you might after a few temples) what could be a better way to do so than to eat in a laid back, beach-side, Hawaiian restaurant with a view. Try
R Cafe
about 1 km south of Omi-Maiko. The food - and the vibe - is fun and holiday-ish. On the downside it's not the cheapest and closed at 6pm when we visited. Bring snacks with you!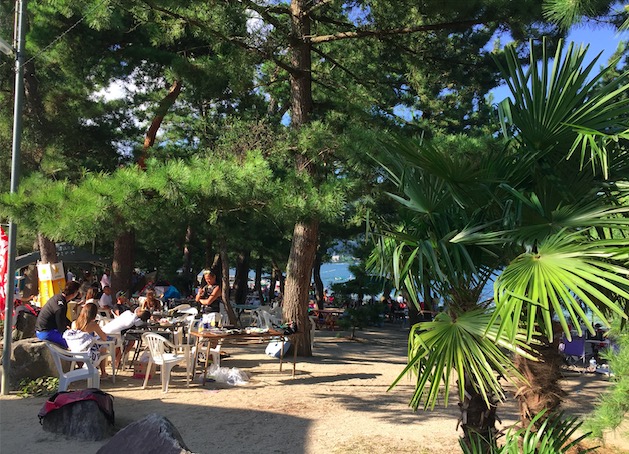 When you do run out of Coke and peanuts, for your your nearest convenience store head behind Omi-Maiko Station, landwards, for a 7/11. Only a couple of hundred metres. There are smaller shops lakeside, but they won't be 24/7.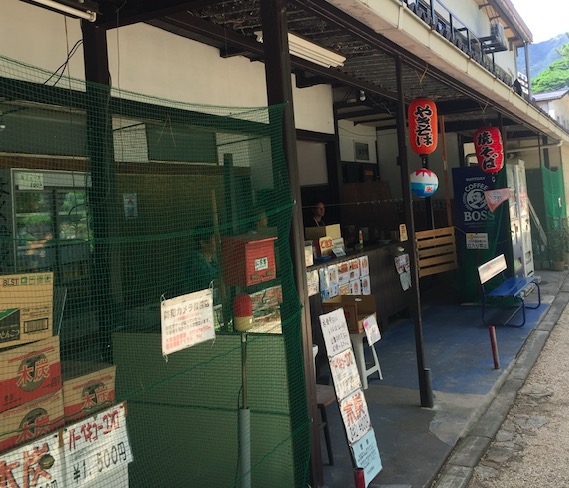 Public toilets are everywhere along the beach, so no worries. Aaand, f you accidentally-on-purpose miss your last train, you can probably sleep on the sand under a canopy of sweet smelling conifers!