Part of Okinawa, the 12 Yaeyama Islands are an archipelago located at the southwest of the prefecture. Being the most most southern and most western point of Japan they are not far from Taiwan.

They have the advantage to offer stunning but also very different sceneries even if they are quite close to each other. From Ishigaki, the main Yaeyama Island, you can easily visit all the other islands for a day trip.
Ishigaki Island
Iriomote Island
Yubu Island
Taketomi Island
Hateruma Island
Yonaguni Island
The other Yaeyama islands
Ishigaki Island 石垣島 (Ishigaki-jima)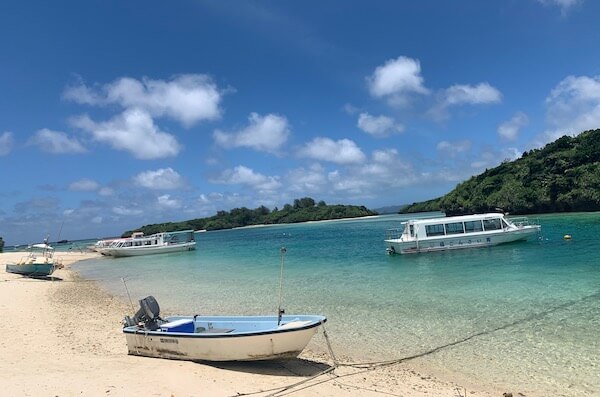 Ishigaki-jima 石垣島 will probably be your starting point, you can fly directly there from Tokyo and find ferries bringing you to all other Yaeyama Islands from Ishigaki port.
Ishigaki to Iriomote (1670 yen return) trip of 35 mins
Ishigaki to Taketomi (1330 yen return) trip of 10 mins
Ishigaki to Hataruma (6910 yen return) trip of 1h30 mins
Ishigaki to Yonaguni (6750 yen return) trip of 4h30 mins
Tarifs are from July 2021, they may slightly change in the future
But there are already lots of things to do and amazing swimming spots on Ishigaki island.
Maesato Beach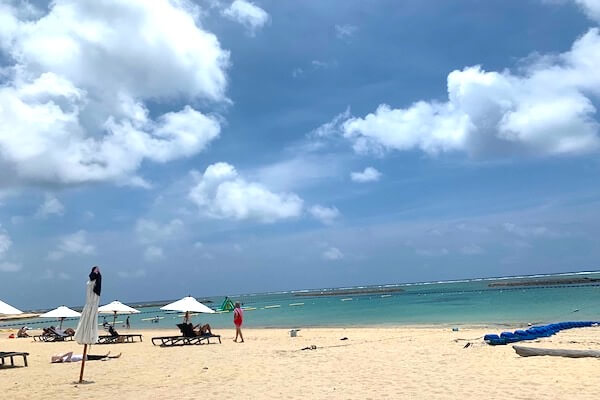 The beach located next to Intercontinental Hotel is the closest beach from Ishigaki city and you can reach it with a 20 minutes bus drive if you do not have a car.

It is not the most impressive beach of the island but you will find white sand and clear water.

Yonehara Beach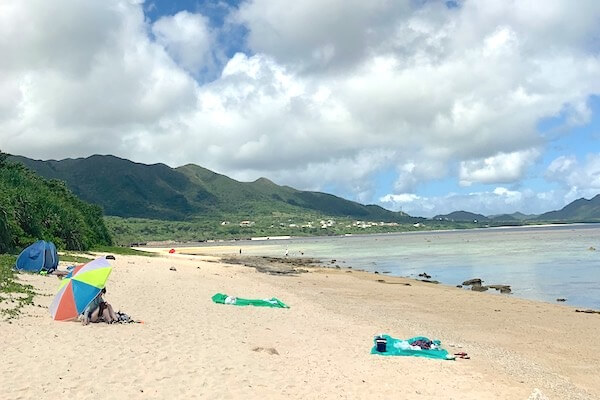 Located at the north part of the island, Yonehara is a long beach with a reputation of being the best snorkelling spot of the island.

You have a camp site, just next to it and the beach is quite wild compared to the other ones so highly recommended.

Sukuji Beach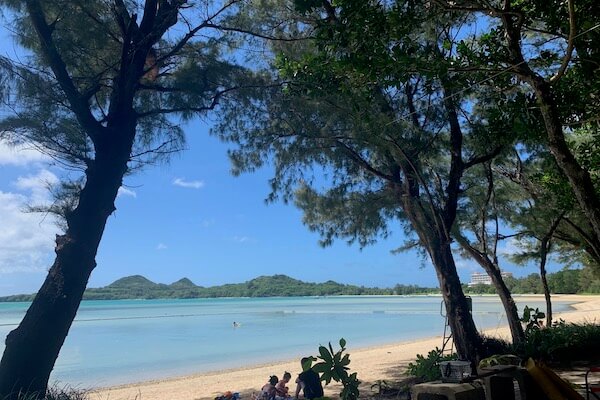 The beach is really nice and surrounded by forest. It is located at the north east of the island, 5 km away from the famous Kariba Bay.

It is somehow the most famous beach of the island but due to the fact that there are jellyfishes and only a small part of the beach protected by jellyfish net is swimmable , it is not our number 1 swimming option, still deserves a visit.

Hidden beach in Kabira Bay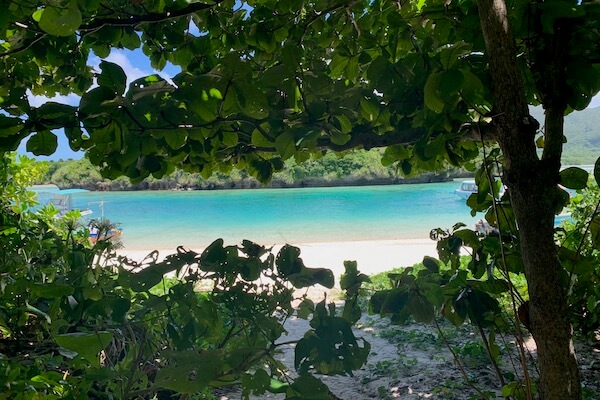 Kabira Bay is without a doubt one of the most beautiful sightseeing spots of the island. You cannot miss but there is 1 massive issue though : swimming is forbidden because of black pearl cultivation.

However you will find a kind of secret beach on the extreme north of the bay where swimming is allowed and here is the exact location.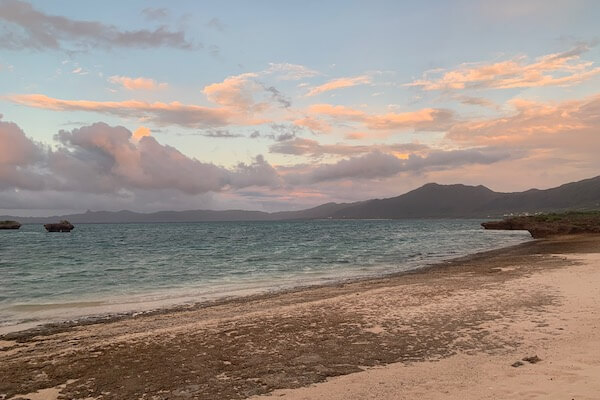 Iriomote Island 西表島 (Iriomote-jima)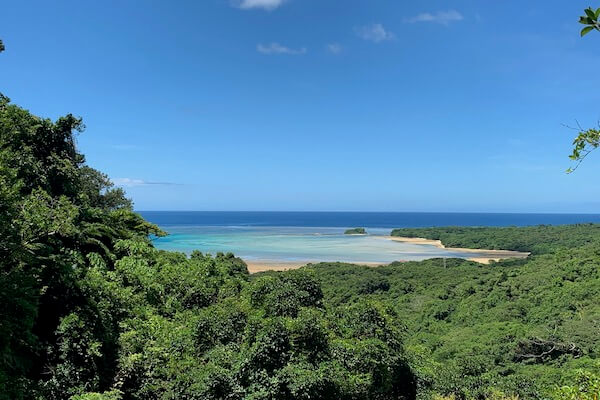 Iriomote is actually the 2nd biggest island of Okinawa and definitely one of the wildest one. Therefore it is highly recommended for swimmers looking for rivers, waterfalls and other wild spots in the jungle.

The Island also has a fair share of beautiful beaches with snorkelling spots as we are in the Yaeyama Islands.

The island is all about  Yamaneko (西表山猫) , a subspecies of the leopard cat that lives exclusively in Iriomote island. It will be really hard to see them as they mainly sleep during the day and hunt during the night.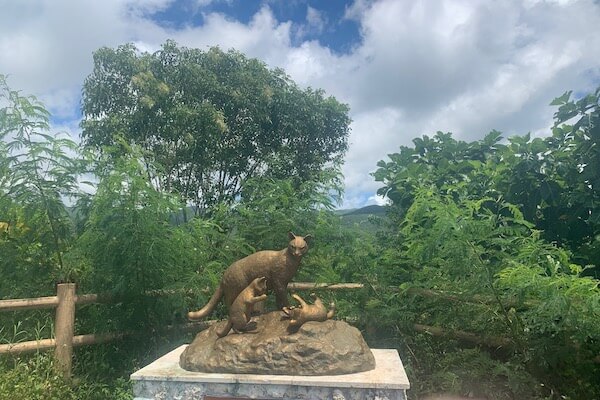 It is also a critically endangered species and its population is estimated around 100 individuals remaining.
Speed is very limited on the island as cars are the main cause of Iriomote cats deaths, so please be aware of it while driving.
Hoshizuna Beach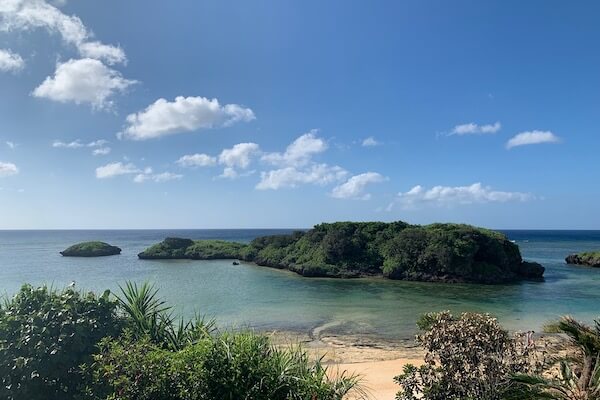 On the North of the island between numerous pineapple fields, Hoshizuna beach is the beach where to go if you have to chose one.

Snorkelling there is really impressive and a simple swim is also very enjoyable.

River and water fall swimming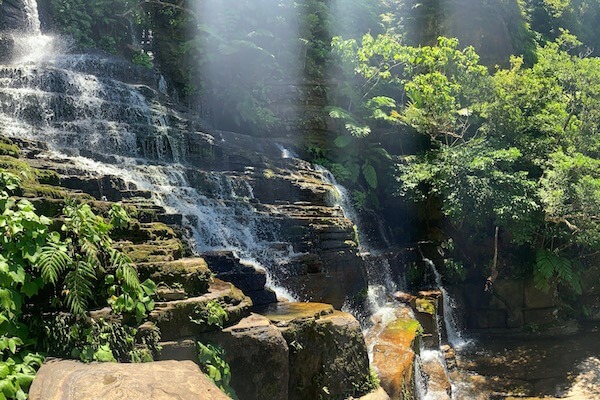 This is for us the main attraction of the island in terms of swimming experience. Rivers surrounded by mangroves, rivers in the jungle, impressive waterfalls, when the sea water meets the fresh water from the mountains, vegetation and landscapes are just breath taking.

If you need someone to show you around and guide you in the luxurious but intimidating nature of the island, we would recommend to contact Hiroaki Imamura who left the busy district of Ikebukuro in Tokyo 15 years ago to live the wild life of Iriomote.

By kayak, foot , canyoning , he offers tours to explore the island with an impressive knowledge of flora and fauna. You will find all details on his website : https://nd-iriomote.com/

Yubu Island 由布島 (Yubu-jima)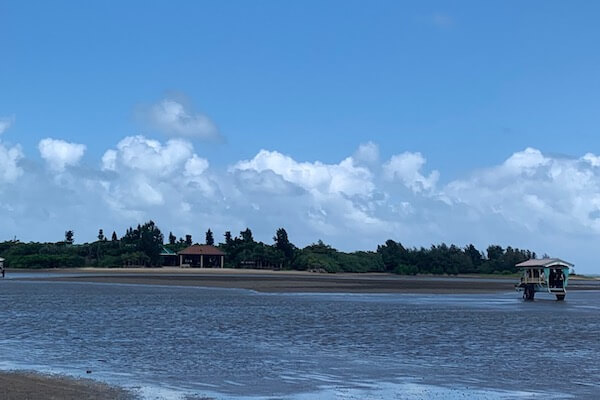 We would consider it more as a part of Iriomote island but when its high tide it is technically an island with maybe 50 centimeters deep of sea water separating the 2 islands.

The entire island is a botanical garden. During low tide you could easily reach the island by foot due to 5 to 10 centimeters of shallow water to cross by.

However you are supposed to cross it riding a water buffalo with a local singing and playing the Shamisen.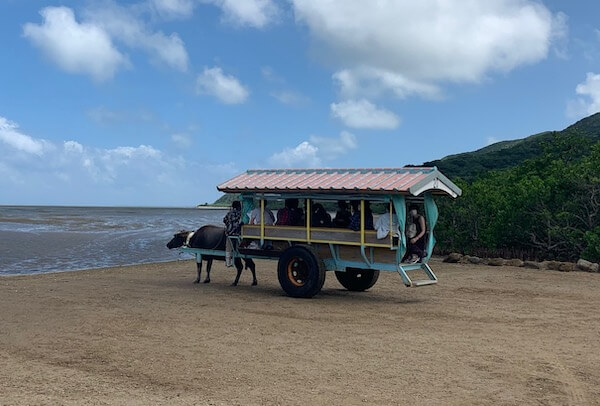 If they catch you crossing it by foot, you are in trouble. You will be told off and asked to buy a ticket to ride the bloody water buffalo cart for 100 meters because it is "dangerous".
Did we did it ? No.
Do we recommend it ? No.
Iriomote has many more other things to offer that what looks like a tourist trap to our opinion.
Taketomi Island 竹富島 (Taketomi-jima )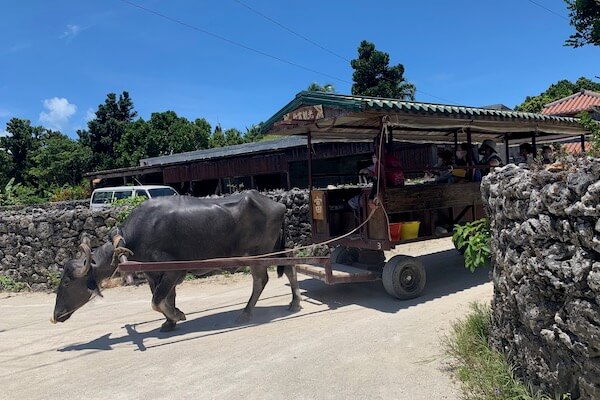 Taketomi is a very touristic destination for many reasons. 10 mins from Ishigaki port by ferry, a very traditional village with red tiled private houses and water buffalo cart rides, a small island which can be explored entirely by bike in 1 afternoon and some nice white sand beaches. However this was not our most memorable experience in what really matters : the swimming.
Kondoi beach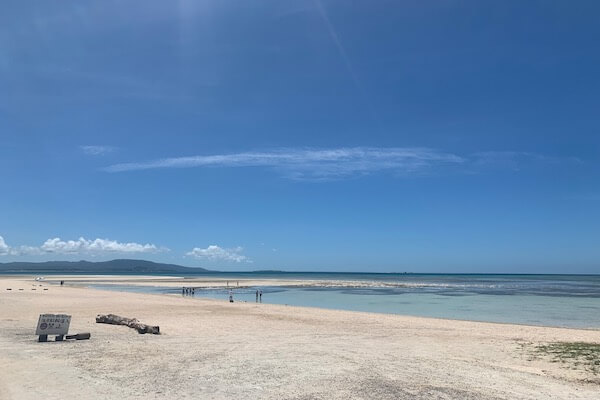 Most famous beach with white sand, beware of nasty crows though and low tides as well if you don't want to have to walk hundreds of meters to take a dip.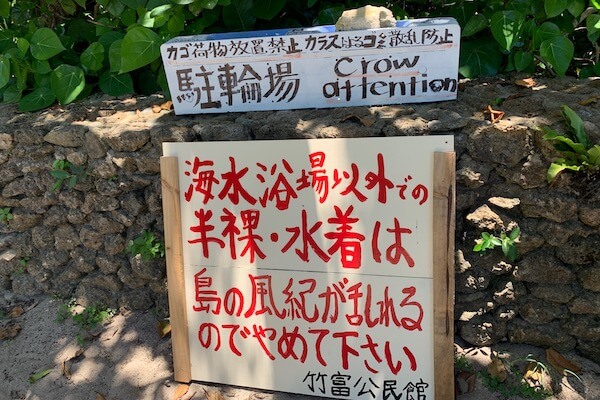 Kaji beach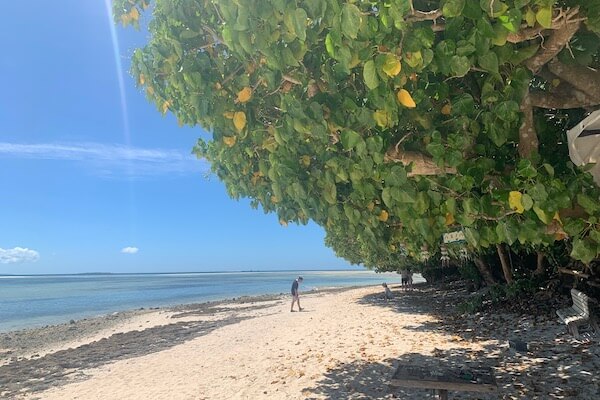 The other beach that deserves a stop, quite rocky but surrounded by trees which give you precious areas in the shade especially if you visit the island during the summer.

Another detail is the sand, which is shaped like tiny stars on this beach (skeletons of small organisms that live among the sea grass).

Kitochi beach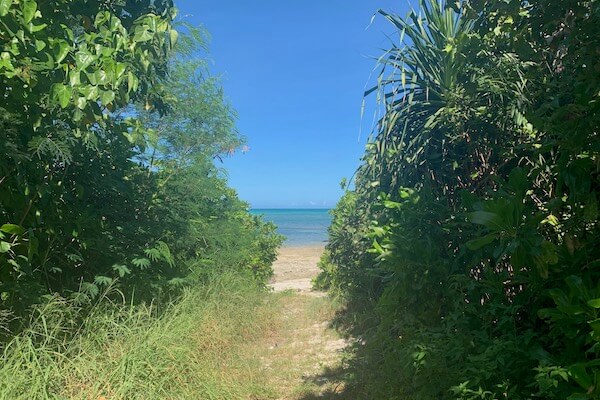 On the east side of the island, the beach is rarely visited and you will have high chances to be alone on the sand. Be aware that you are not supposed to swim on this beach for some reasons we don't really know

Aiyaru beach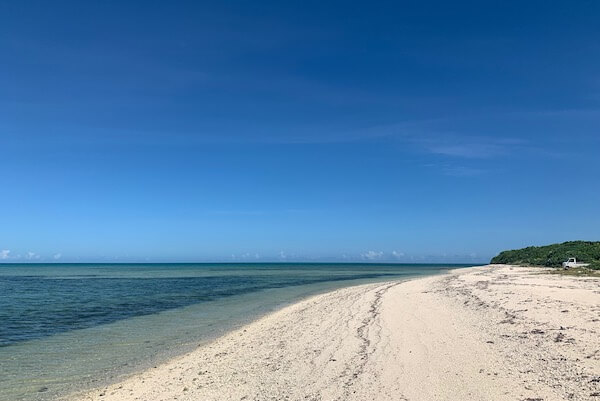 Really close to Kitochi beach, another deserted place where swimming is supposedly not allowed so it lost most of its interest.
Hateruma Island 波照間島 (Hateruma-jima)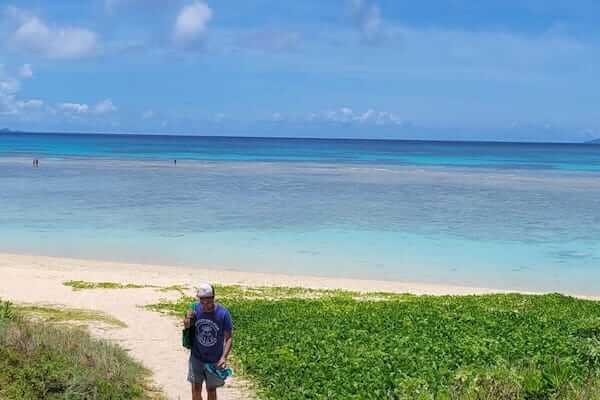 A bit further from Ishigaki compared to the other islands, it will take you 1 and half hour to get there by ferry.

But it is worth it in our opinion. Not because it is the southernmost manned island of Japan which does seem to attract few tourists though trying to go on the southernmost rock of the island to take a picture but because it is simply the most beautiful beach we have seen on Yaeyama Islands.

Nishihama beach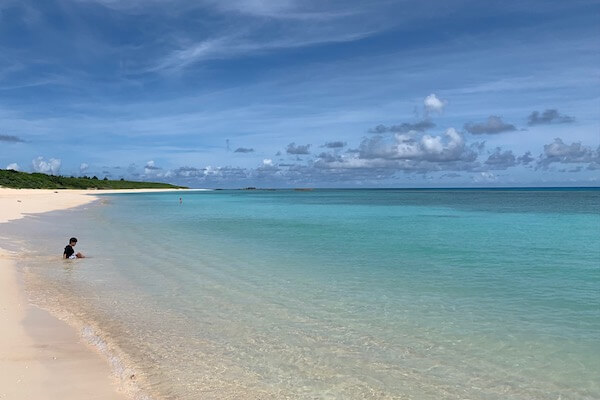 This beach is really a jewel, the beautiful white and fine sand, the crystal clear water and the amazing blue gradation created by coral reefs is really impressive.

If you add to this snorkelling spots where you can easily see tons of different tropical fishes and really chilled sea turtles, NishiHama is really this kind of beach that you will remember for the rest of your life.

Yonaguni Island 与那国島 (Yonaguni-jima)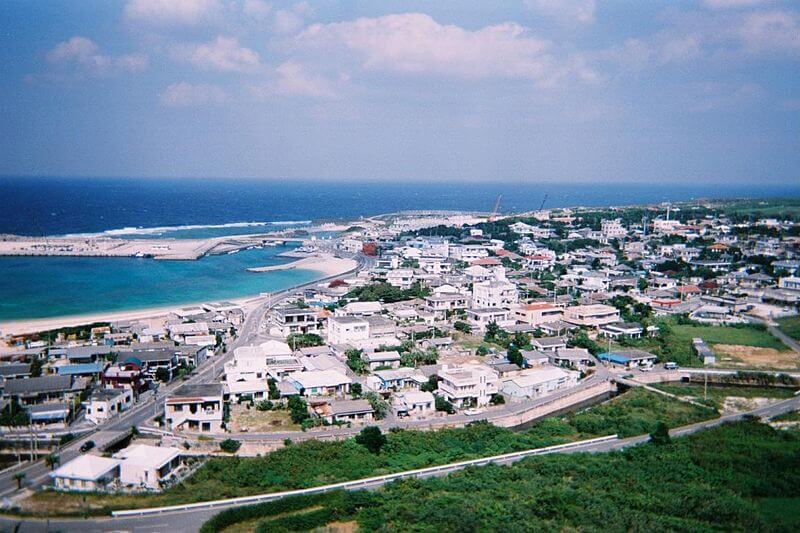 This is definitely a bigger mission to visit Yonaguni. Located further west. It is actually the western part of Japan, very close to Taiwan, you can either get a 4.5 hours ferry ride to reach the island or a 20 mins flight.

Yonaguni horses can be seen roaming freely around the 3 villages of the island.

The destination is really popular for scuba divers  who can see  migrating hammerhead sharks and explore "underwater ruins" called Yonaguni Monument.

It is not recommended to have your first dive in Yonaguni though, the strong currents would fit more certified divers.

The other Yaeyama Islands
We haven't got the opportunity to visit all Yaeyama Islands but we thought some of them should be mentioned .
Kohama Island 小浜島 (Kohama-jima)
There is a manta ray shaped observatory on top of Ufudaki if you are into this sort of things.
Kuroshima Island 黒島 (Kuro-shima)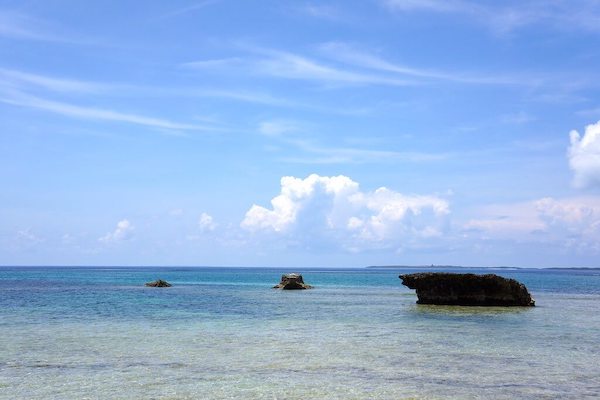 The so-called "Black Island" got manly ranches, with a population of 200 inhabitants and 3000 cows.
Kayama Island 嘉弥真島 (Kayama-jima)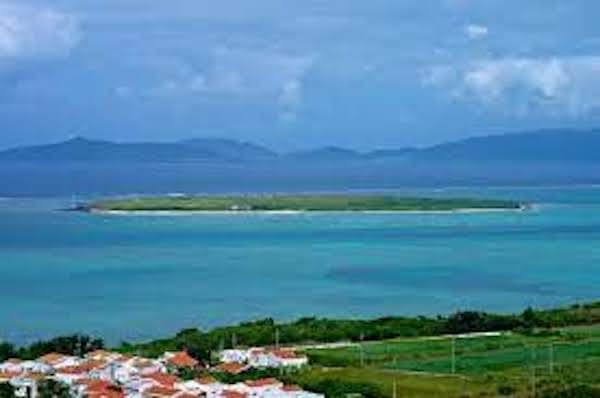 The island is full of rabbits.

No ferry is going to bring you there, you need to book a private tour.
Hatoma Island 鳩間島 (Hatoma-jima)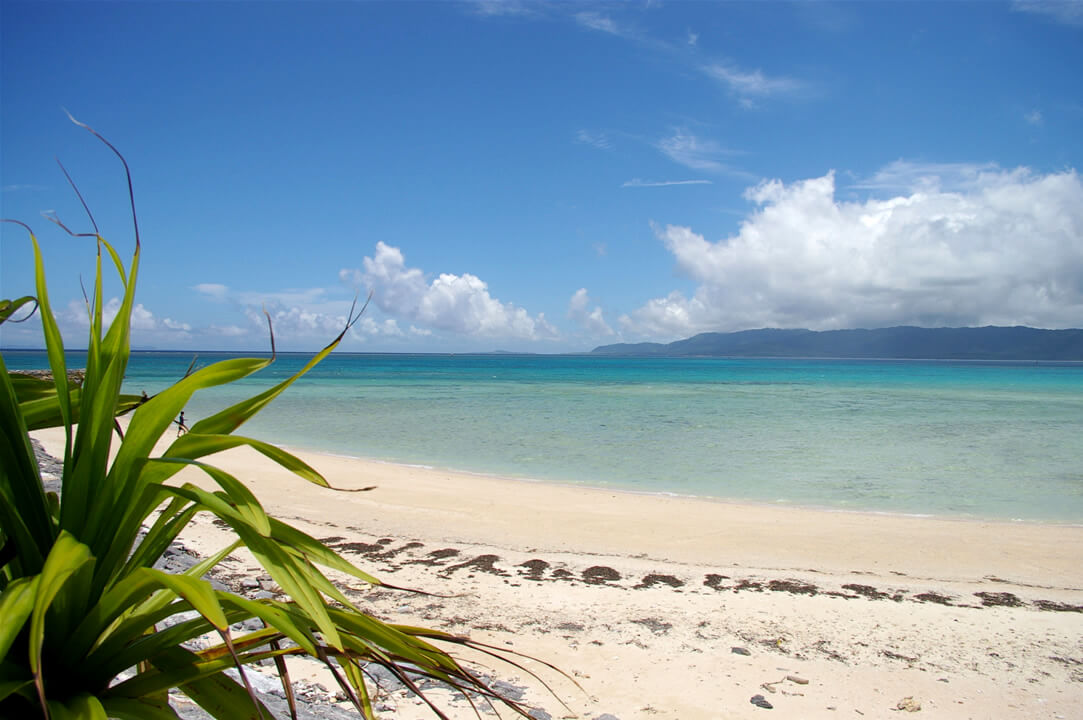 There is a lighthouse and 50 inhabitants.

Beaches look stunning.
Aragusuku Island 新城島 (Aragusuku-jima)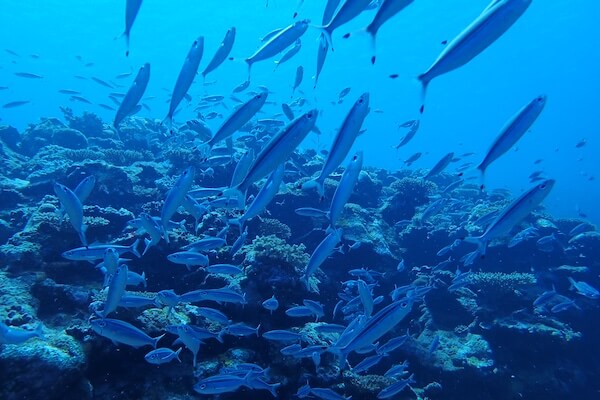 Coral reefs are apparently really impressive.

You also need to book a private tour or rent a boat to reach the island as there is no ferry bringing you there.