Japan's most famous landmark surely needs no introduction. Visible from all around the Kanto region for hundreds of kilometres, the peak of Mount Fuji (富士山 / or Fuji-san) is snow-capped for many months, and when it melts the volcano becomes a popular destination for hikers. The climbing season is July - September, by the way.

All that snow-melt has to go somewhere and Fuji is surrounded by five lakes. They are collectively called The Fuji 5-Lakes (富士五湖 / or Fujigoko).

All the lakes have their own unique character, but Lake Motosu / Motosu-ko (本栖湖) has a special appeal for swimmers with excellent, clear and blue-tinged waters. The lake's nickname is Motosu Blue (本栖ブルー) in honour of the otherworldly, azure glow it takes on when the light touches it.

This gives it a special place in the heart of some Japanese people for sure, but perhaps more universal is the fact that the Fuji view from Motosu is the image that graces the 1000 Yen note.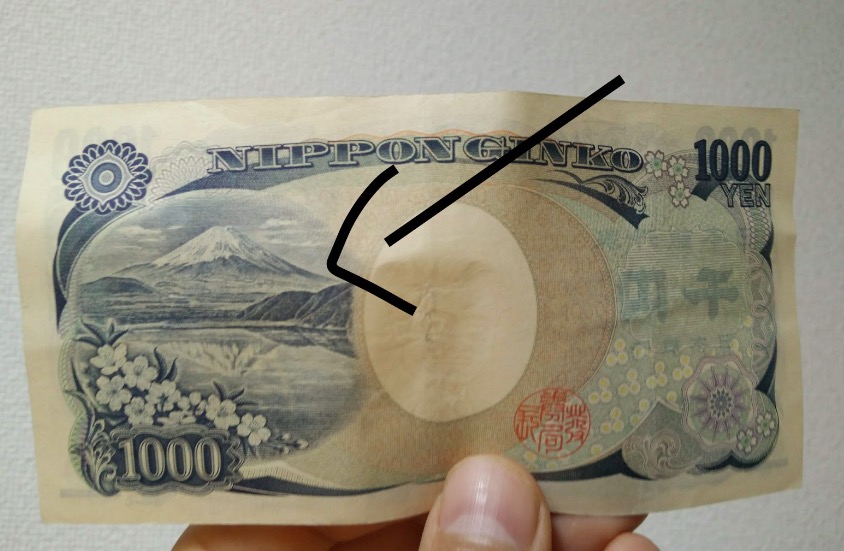 Swimming appeal is bolstered by the lake containing uniquely warm waters. In fact in summer it's shockingly warm, and in the winter doesn't freeze over like its four neighbours. Motosu is the deepest of the Five Lakes, with a maximum depth of 140 metres and the most transparent of the bunch too, so you can have fun diving or snorkelling here. Obviously, don't expect to see massive schools of tropical fish or corals, but who knows what's under there in that deep, dark blue …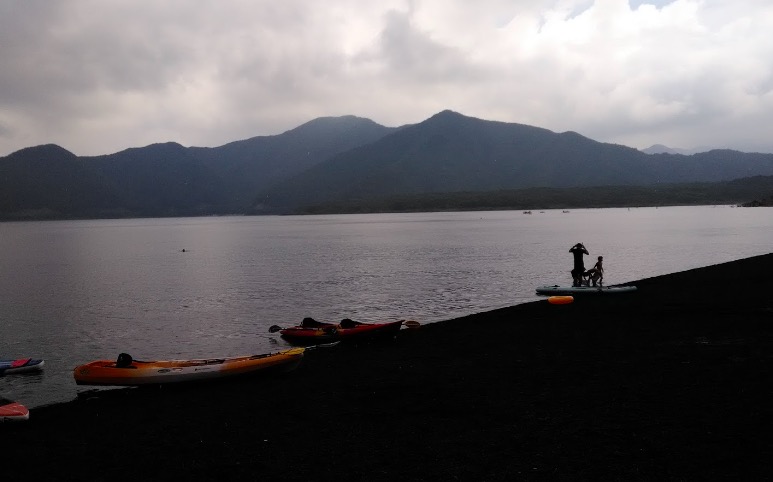 The incline is steep which means pretty soon you won't be touching the bottom and can dive down super far a mere few metres from the shore, and the water is still.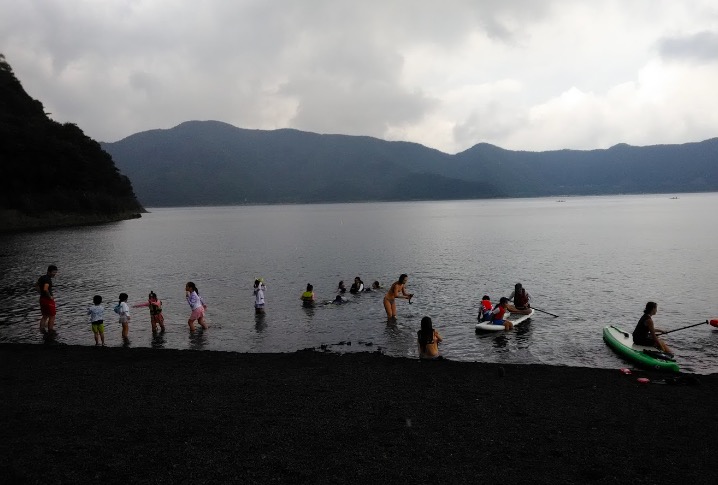 We at Swimming in Japan Dot Com are always happy when there are camping options on hand, and Motosu offers at least six! It's a quiet place so you'd probably also get away with camping on the sand beaches beside the water if for any reason you can't get a space, or just can't face moving.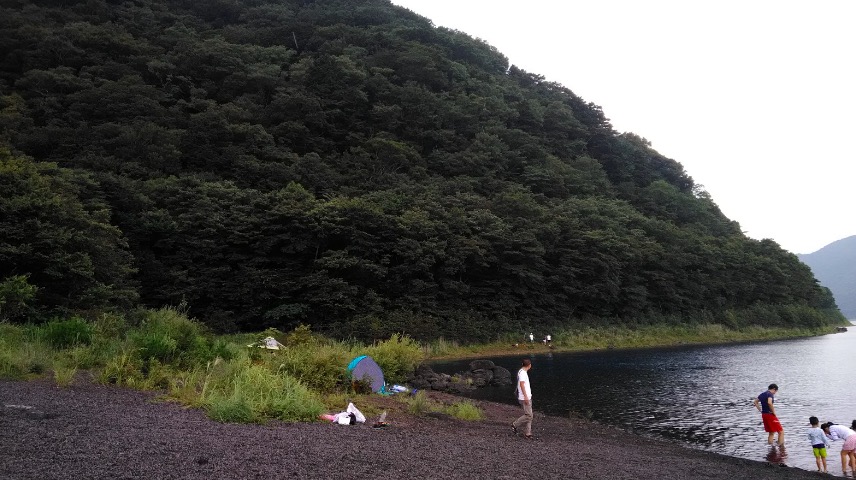 Where is Motosu?
Motosu is the furthest west of the five lakes, in Yamanashi prefecture (山梨県). Depending on how you travel, you are within day-trip distance from the Tokyo-Yokohama region and to the south Shizuoka, Izu and at a push, Nagoya. We do however recommend everyone to camp for at least a night to make the best of their trip, though.
There loads of good areas to swim around the lake. The most convenient ones are dotted near the campsites.
This is the beach nearest Sumika Camp, on the southeast of the lake.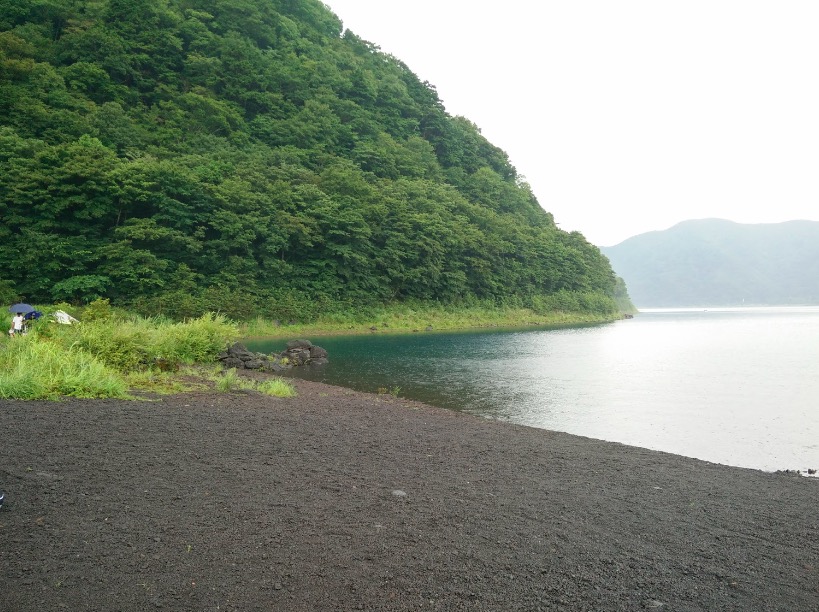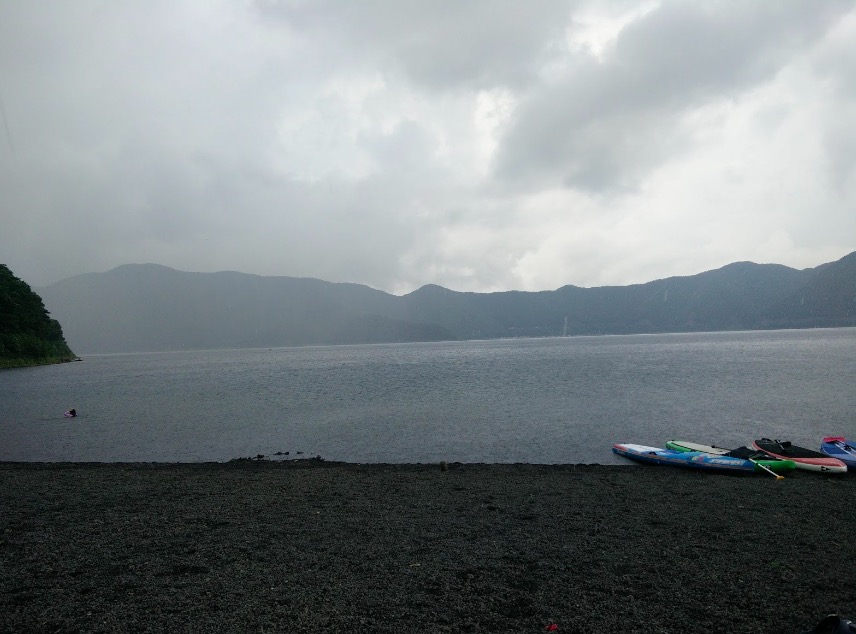 The weather was not great when we visited (there was a typhoon on the way) so may not do the beauty of the area and the blueness of the water the justice it deserves.
Fuji did, however make an appearance near the end of the day, and it is huge from Lake Motosu.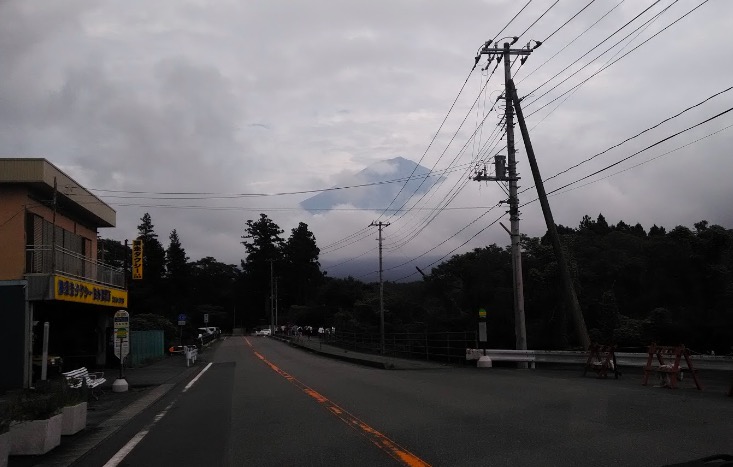 How do I get to Motosu?
Though as the bird flies all of Fuji's lakes are near to the Tokyo region, this does not make them all fast to get to by train. If you have a JR pass and do want to take the train, for quick and easy access you are better off going to Kawaguchi-ko (Lake Kawaguchi / 河口湖).

The main route from Shinjuku Station to Motosu terminates at Kawaguchiko Station and from there, you could take a short walk to get some lake action (it will be easy to find from there).

If, however you have a bit more time and don't mind adding on some buses, then jump on the Fujikyuko Sightseeing Bus and pass by Lakes Saiko (西湖) and Shōji (精進湖) on your way. It takes about 4 or 5 hours in total this way, depending on the time you leave and the connections you make.

Better still, you can spend 1500 JPY on the 2-day jump on / jump off pass Fujikyuko offer and suddenly the world (of the 5 lakes, at least) is your oyster. Swim whenever and wherever you like as long as you stick to the timetables and don't mind walking a little. Check out the Fujiyuko website for more information and timetables.

Our recommendation, though is to just bus it all the way from Shinjuku on the direct bus. That's 2200 JPY. Do add on the 2-day pass though, it's well worth it for the extra places you can see and swim.

As usual with the mountains, driving is a faster way to access the best swimming spots and allows you to explore on your own terms. It's not so difficult to rent a car, provided you've an international license. Check out our guide to getting around Japan for more info.
Useful bits
If you want to take your own mock 1000 Yen landscape scene, the place to do it is called Koanso. It's about 4km northwest along the lake from the main Tourist Information Centre, and very convenient if you stay at Koan Camp Ground (浩庵キャンプ場).

Beatles fans rejoice! One of the main non-swimming attractions is that you can do a pleasure cruise about the lake in a yellow submarine that doesn't go underwater. It's called Moguran and has a bit of glass built into the floor for viewing blue water and fish. If that sounds like your kind of thing, and your bird can sing, the details are here. Get off the bus at the termination point (near the Tourist Information Centre).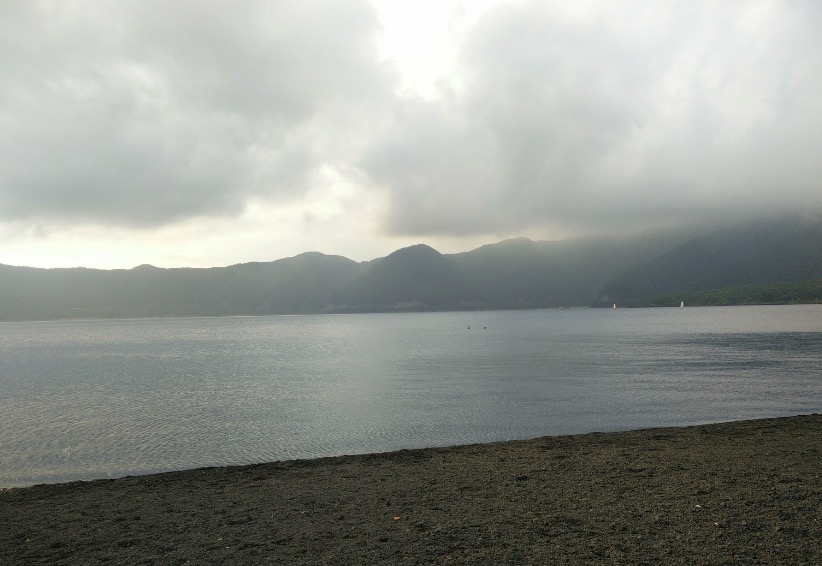 The Tourist Information Centre is a friendly place to find out about all paddleboard, kayak and other rental opportunities on offer. You can also find
Motosuko Dive Resort details here
.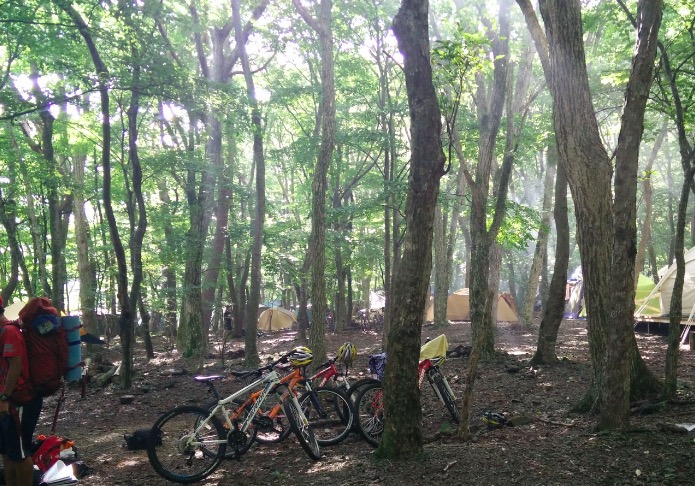 Which campsite you choose really just depends on your own preference, they are all competitive (about 2500 JPY for a tent). Our picks are on the east side of the lake. The easiest is probably
Motosuko Camp Site
a stonesthrow from the bus stop. That has some nice beach areas, forest, a decent shop and some tatami bungalows for more Yen. Though if you're feeling flush, a short stroll south is
Sumika Camp
, which offers a range of glamping options and is convenient for a fine, sandy beach (regular camping also available).
Foodwise, the area is well-known for venison, in curry or on rice.
Honjin Tsukasa
is a good place to try the venison, and their udon nabe is completely unforgettable.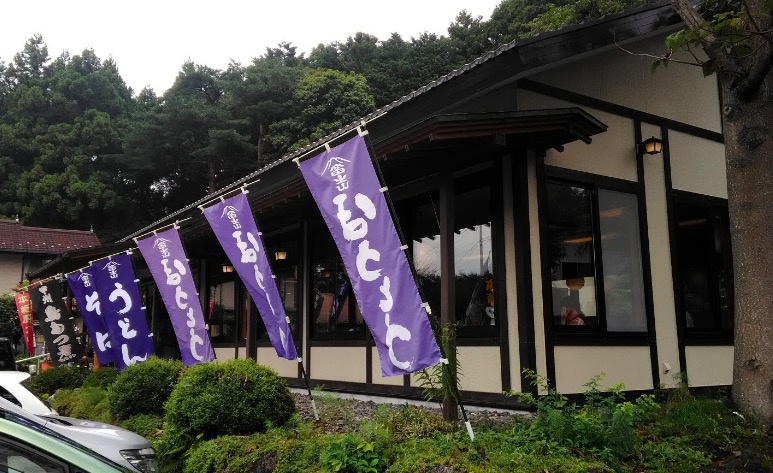 With a lot of volcanic activity going on below the ground (Fuji is still an active volcano, after all), the whole of the 5 Lakes area is full of onsen. Ask at the Tourist Centre for recommendations based on your itinerary.
If you're sick of swimming and looking at things, the shuttle bus service includes - in our opinion - Japan's best theme park for rollercoasters,
Fuji-Q Highland
. The day pass will set you back a few thousand more Yen but what is more memorable than being suspended upside-down, spun around and then flung forward on Japan's fastest rollercoaster while gazing at Mount Fuji?! There is even a fantastic, very fancy onsen very conveniently nextdoor to the park!