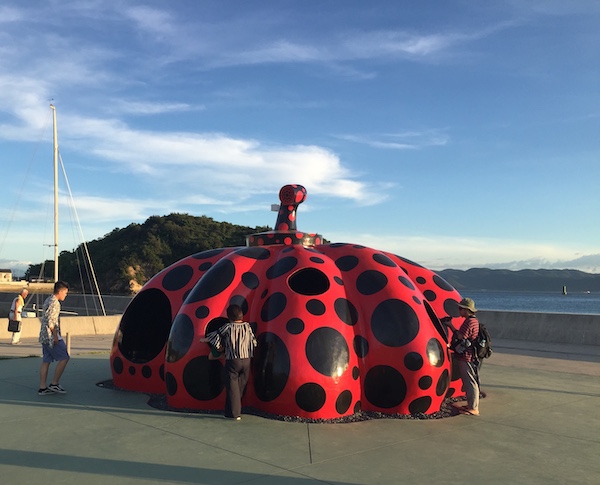 Naoshima (直島 ) is a small group of islands located in the Seto Inland Sea with just 3000 inhabitants. The largest of these was until recently becoming a barren, post-industrial site, before it was transformed and redeveloped into Japan's 'Art Island'.

Cue a landscape dreamed up by concrete-megastar architect Tadao Ando with huge inkblot-spotted pumpkin sculptures - courtesy of Yayoi Kusama - dotted around the place.

It's now a cultural hotspot whose art-based attractions draw hordes of tourists, with nearly a million people visiting its famous Triennale festival alone.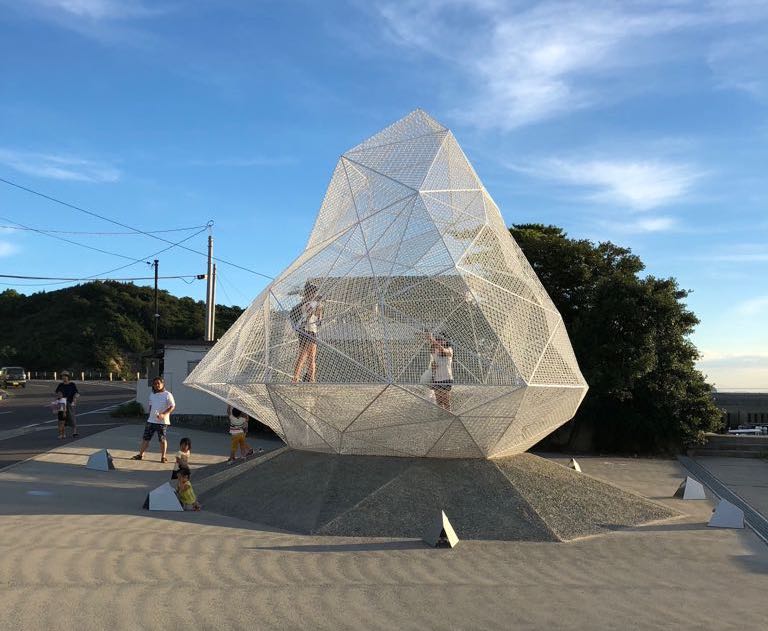 But Japanese summers are hot … so the question is :
.
Can you swim in Naoshima?
The answer is thankfully, yes.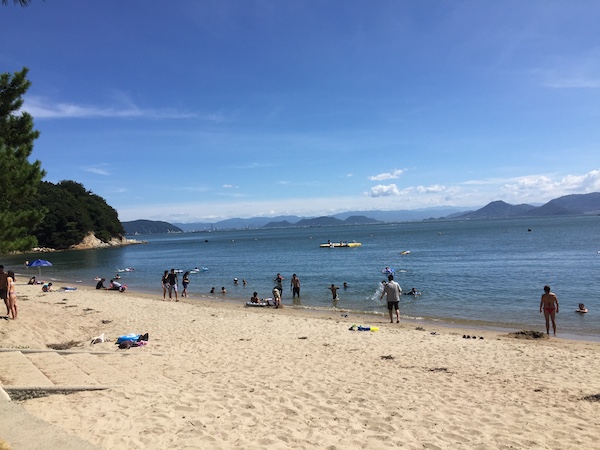 It's not the most publicised attraction on the island but there is a designated sandy, swimming beach area.
What's more, the location of Gotanji Bathing Beach (琴反地海水浴場) is perfect. It's at the far south of the island, right in front of Tsutsuji-so resort (直島ふるさと海の家つつじ荘) the same shuttle bus jump-on/off point as Benesse House, Lee Ufan, and Chichu art museums. These will be on most visitors itineraries already.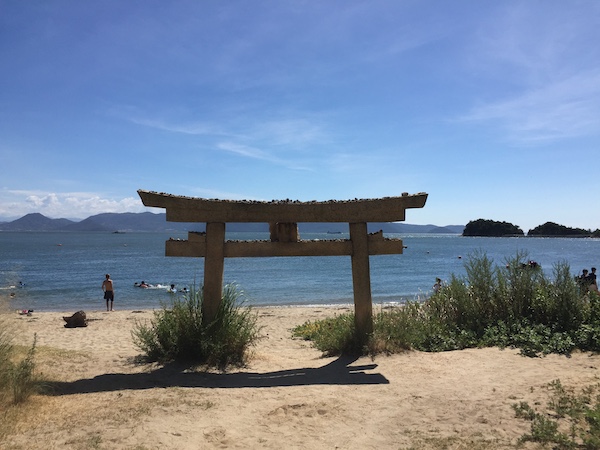 Being honest, those expecting a first-class swimming experience at Gotanji may be disappointed, but it's a beach with plenty to offer, especially for swimmers with kids. All the infrastructure is there: showers to rinse off the pleasant, dark-yellow, Seto sand, a swish cafe and shops, a nice terrace for lazing around ... and (our favourite part!) a floating platform in the sea for some cheeky jumps.
In the water, there are some fine, clear spots where the water is less seaweed-infested with good visibility, and swimming south, you can find yourself alone in your own private cove.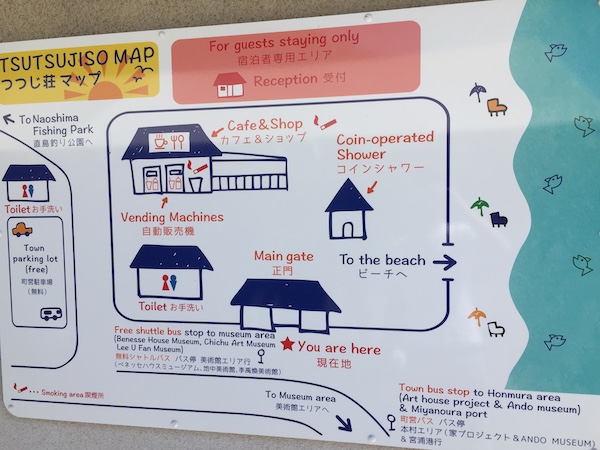 As you may need to wait half an hour for your shuttle bus, it would be a crime not to have a quick swim-while-you-wait. You can even contemplate one of those Kusama Pumpkins while swimming.
Our investigations found four more locations that are perfect for a scenic sea swim.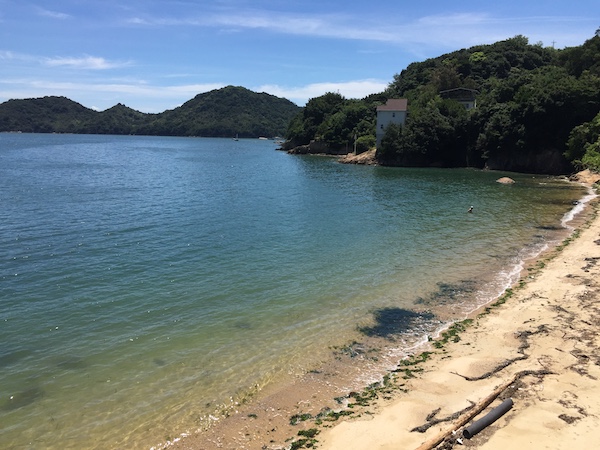 Secret Beach Number One is in the Honmura (本村港) area to the east of the island, near the Ando Museum. More precisely, it's right in front of the Go'O Shrine Project (護王神社) though access from there is not so easy as there's a bit of a drop.
From Go'O Shrine, head back towards the bus-route road and walk only 150 metres along with the sea to your left (heading south). You'll quickly find a usually-deserted beach with a small sandbank. Jump the fence and you're there. It's pretty good, but a little grassy gets some seaweed, and may have a little driftwood washed up on its small shoreline.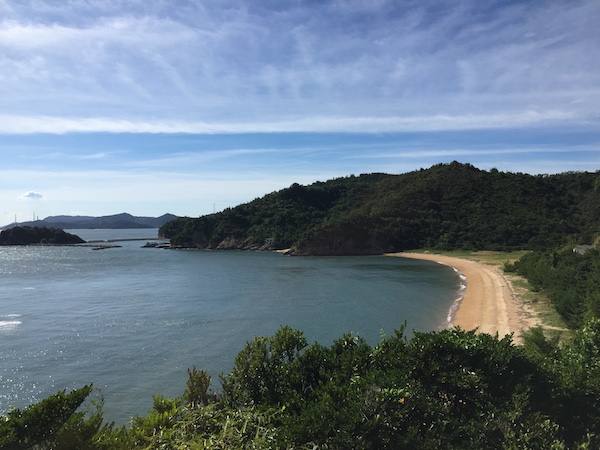 In the southern, Benesse House (ベネッセハウス) area not far from Gotanji Swimming beach and of course that bus stop, you'll find Secret Beach Number Two, which is so long that it's actually broken into two sections, separated by a little rocky crag. While definitely beautiful, and with much clearer water, it's a little less private than that first spot.
It's easily accessed by following the coastal road just west of Gotanji beach to Seaside Gallery (シーサイドギャラリー) and from here head to the Shipyard Works sculptures (シップヤード・ワークス 船尾と穴 and シップヤード・ワークス 切断された船首). The smaller section of Secret Beach Number Two is right in front of them. The larger section is either a short swim or clamber around the crag, or accessed directly in front of the Rock Sculpture Garden (見えて/見えず 知って/知れず) exhibit.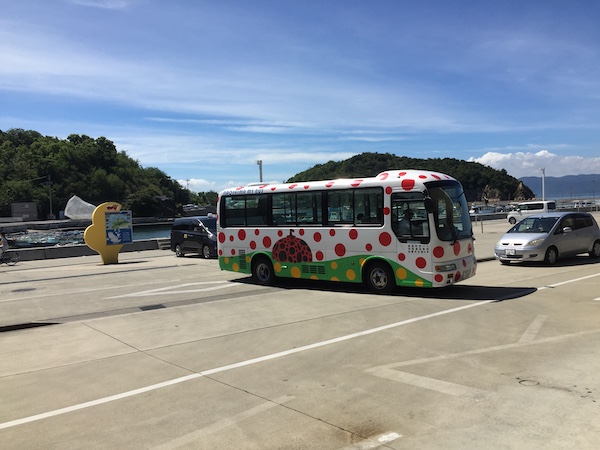 Secret Beach Number Three is not really so secret - it's called Uchigahama Beach Resort (!) (内ヶ浜海水浴場). But it's hardly used, and very close to Miyanoura Port (宮浦港) which makes it convenient for a final swim on the island while waiting for the ferry. It's a 5-10 minute walk south from there, just past Naoshima Pavilion (直島パヴィリオン) on the opposite direction of the road leading you to Honmura/eastern area.
The beach is quite small but at under ten minutes on foot from port, unarguably convenient. With a view of the busy port from the sand it's not the best view but the waters are calm. What's more you'll probably have it all to yourself.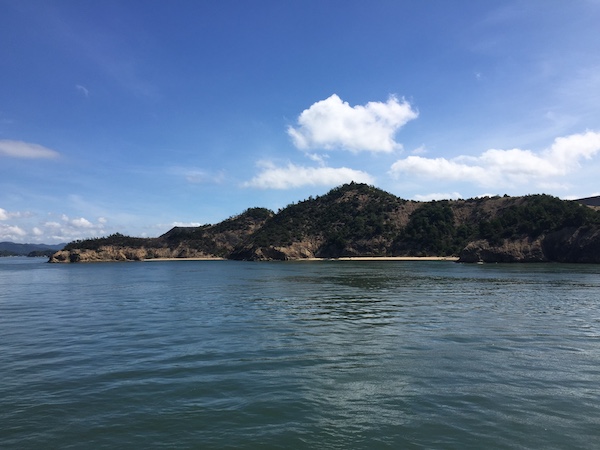 Secret Beach Number Four is also convenient for a pre-Miyanoura ferry swim. To get there head northbound, the other way along the same road and follow the coast until you arrive at Seaside House Noumi guesthouse (シーサイドハウス能見). Either jump the wall or turn right and follow the track to get there. This one's a beauty with clean sands but it's directly in front of some kind of industrial building. For all the hassle you're better off sticking with Number Three, we reckon.
.