Meat lovers around the world are of course surely familiar with Kobe city (神戸市). It's of course where that fancy Kobe Beef (神戸ビーフ) that costs a fortune in Harrod's* comes from.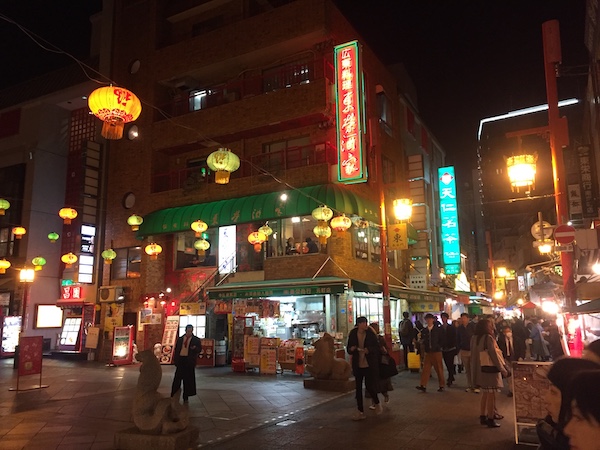 It's also up there with Japan's best cities and houses a large, bustling Chinatown, Nankinmachi (南京町) that's prized as among the best in Japan. *£625 per kilo (according to Wikipedia)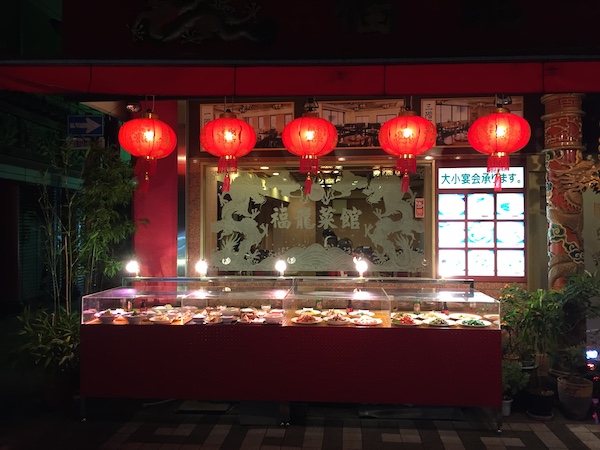 Who knew that Kawasaki motorbikes were not made in their namesake city but in Kobe!? If you find yourself aimless in the city do check the
Kawasaki museum
where you can actually get up close with Shinkansen 'bullet trains' and all sorts.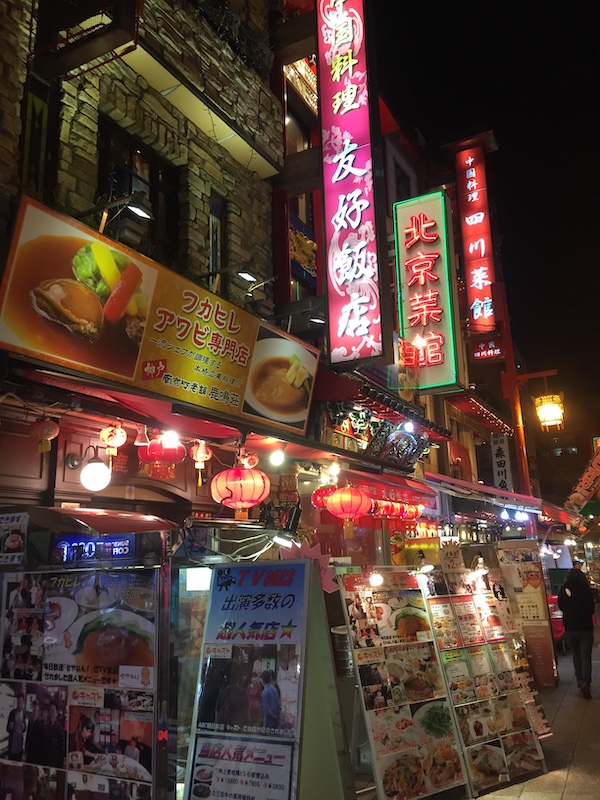 Can you swim in Kobe?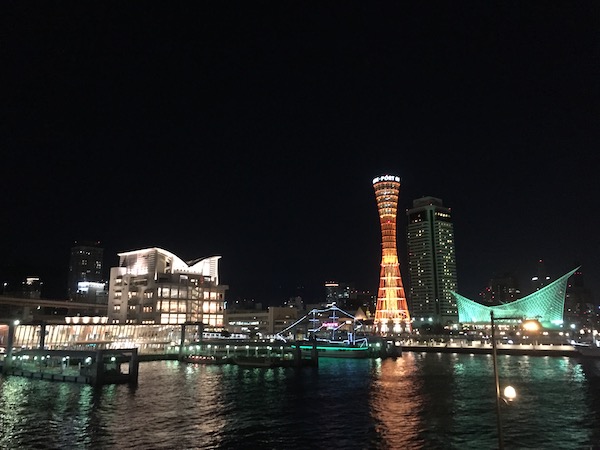 Yes you can and one the best option is Suma Beach. The heavy industry and indeed the Chinatown probably originated because Kobe is an important port city nestled on the western shores of Osaka Bay (大阪湾).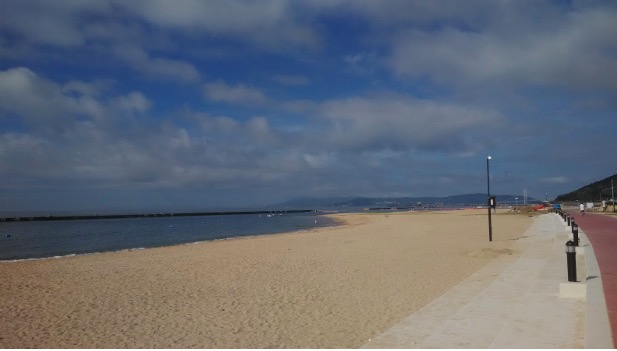 Suma Seaside Park (須磨海浜公園) is Kobe city centre's nearest beach and is a really nice place. The local government have obviously spent a lot of time, effort and Yen on making it so, and we salute their hard work!
In the summertime there's loads of infrastructure here.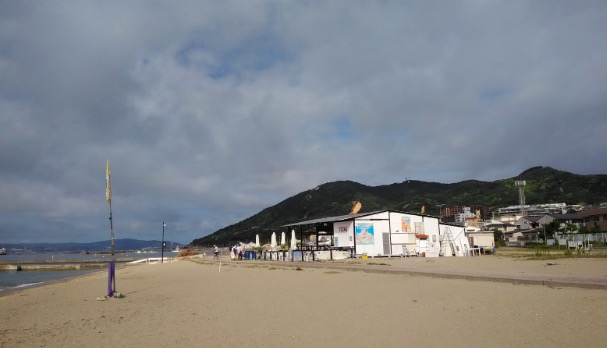 There are a few finely landscaped palm trees spicing up the sand, bars to suit all tastes (loungey wine bars with decking rub shoulders with more down to earth ice cream shacks), and in the water there are platforms for jumping off and dancing on with boomboxes … if you like?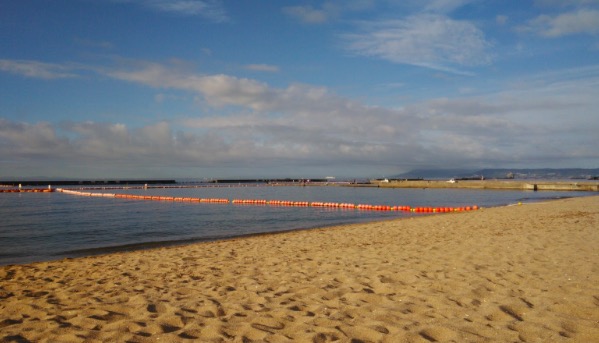 The swimming spaces are all arranged into nice little areas with buoys protecting you from the many boats and jetskis heading to and from the nearby marina.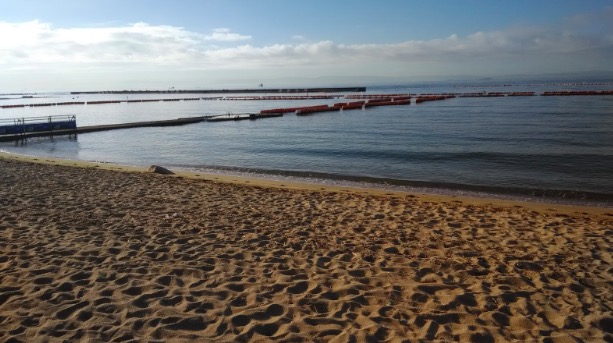 It's a nice little spot for swimming with no big waves, clumps of seaweed or sea monsters to speak of, to our knowledge. When you swim out a bit, even within the 'safe' swimming zone they've cordoned off, the water is satisfyingly deep and you'll feel free.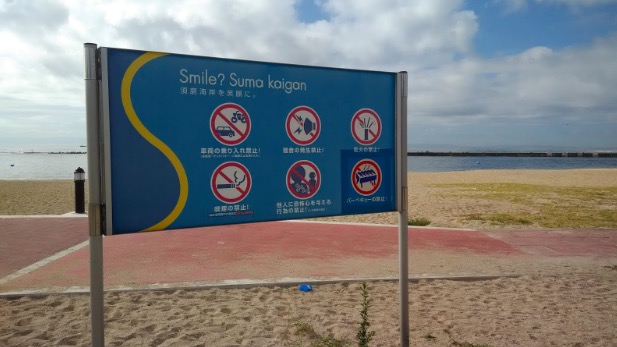 The views are excellent, as to your right lies the silhouette of the mighty Akashi Kaikyo Bridge (明石海峡大橋), at the time of writing the world's longest suspension bridge, which connects Honshu island to Awaji Island/Awajijima (淡路市), via connections to two more consecutive bridges going aaaaall the way to Shikoku Island.
Where is Suma Beach?
Suma Beach begins almost precisely where the most built up areas of Kobe city end. This means it reaps the benefits of great transport links, facilities and convenience without being a very big trip from the city centre.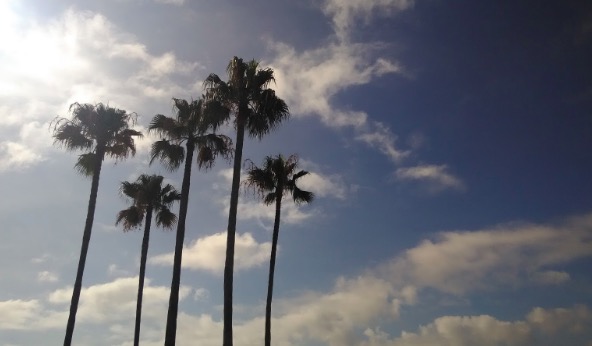 It's the first in a series of coastal parks and beaches that follow the coastline west of Kobe, right along the far western point of Osaka Bay's coastline before merging with the similarly tranquil waters of the Seto Inland Sea (瀬戸内海) which is known as Japan's Mediterranean due to its laidback character and climate.
How do I get to Suma Beach?
Access to Suma's beach is very simple. It's almost directly in front of not one but two stations: Sumakaihinkōen Station (須磨海浜公園駅) and Suma Station (須磨駅). It'll take you a matter of minutes to get there, so really it's down to your preference as to which side of the beach you want to begin at (they are a short walk apart so no sweat if you want to switch). The farthest west is Suma Station's beach, and recently it's been a little less popular which means you may have more space with less fuss. The beach in front of Sumakaihinkōen Station side (Seaside Park) is a little more built up.

Suma Station is served by faster express trains whereas the Sumakaihinkōen Station has less frequent, slower access.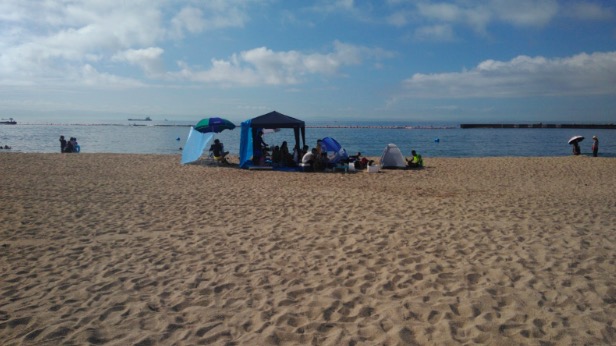 Suma Station is a mere 10 minutes from Kobe Station (8 minutes on the express) on the Tokaido-Sanyo Line (各停) and will set you back just 180 JPY, while Sumakaihinkōen Station is 160JPY and 8 minutes! Did we say these beaches are convenient already?
.
Useful bits
As all seasoned Japan travellers will know, train stations and convenience stores go hand in hand like erm … curry and udon? Suma Seaside Park is served by two stations, you have nothing to worry about for snacks, beers and Famichiki (Family Mart's famous fried chicken, for the uninitiated). For your further convenience there are toilet blocks along the beach.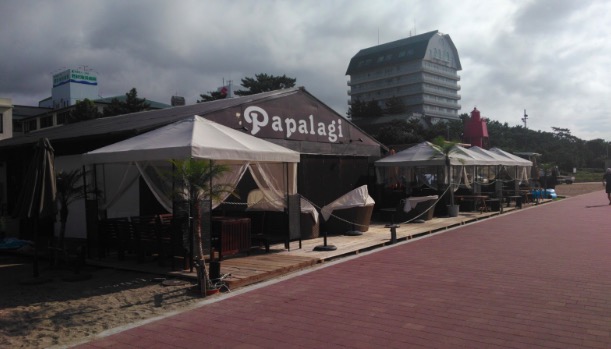 If you're looking for a late night place to get warm, eat, drink and party it seems the place to be around Suma Station is the Spanish place called Margarita, which is not on any map but is seemingly in the same block as Ryoriya Ao one floor up.
Alternatively just hit up the konbini and make a beach party, no one will mind as long as you clean up after yourself.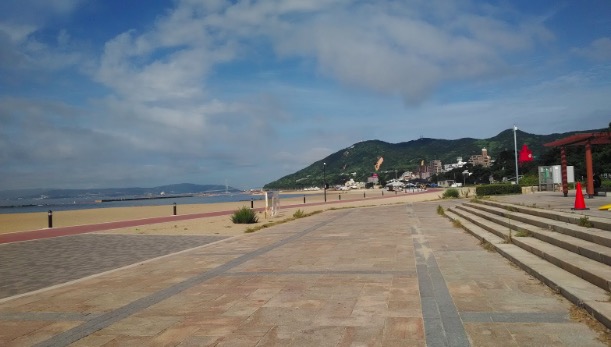 It might be near the city lights, but the vibe here is a lot more laidback than some of Tokyo's nearest. No mention of, for example, tattoo or drinking restrictions on the beach - although it seems in the past they did get strict, so be discreet about body art.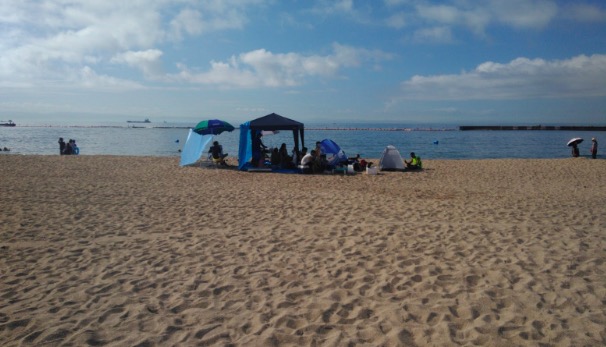 This lack of restrictions does also mean that it should be totally possible to pitch a tent and sleep under the stars without any problems. The western, Suma Station end is that bit quieter and less patrolled that it might be the best of the two for this, though.