Okayama Prefecture (岡山県) may not be Japan's most famous or popular stop off for tourists but there are many reasons why it deserves to be better known.

Its most famous domestic export are its juicy peaches, and aside from the abundant fruit trees Okayama is chock full of nature, with lush forests, mountains and a long, underdeveloped coastline which skirts the Seto Inland Sea (瀬戸内海).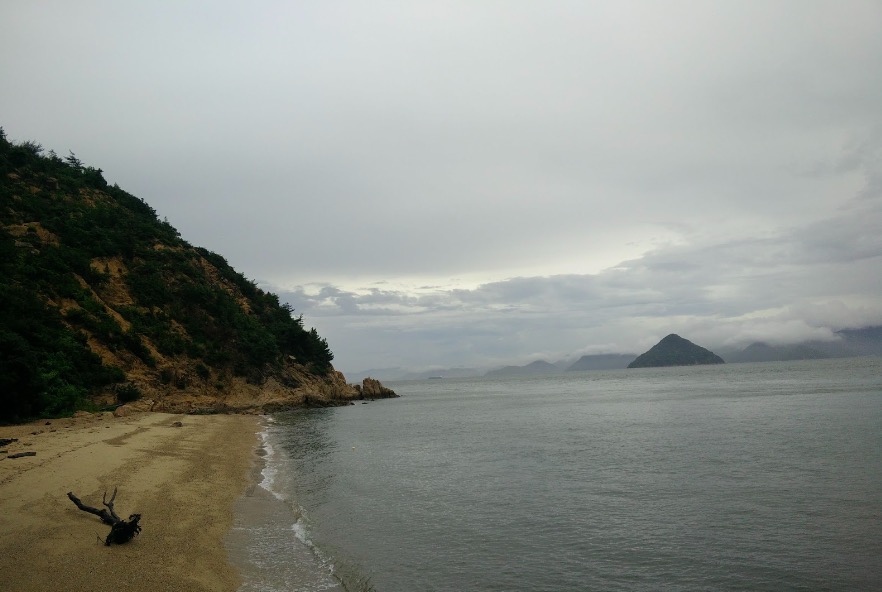 There are lots of swimming opportunities along that coastline for the intrepid explorer, and numerous little islands too if you have time to spare. There are only really a couple of developed beach resorts in the prefecture though, and Shibukawa Beach Resort (渋川海岸), a 1km long stretch of sand lined with pine trees is one of them.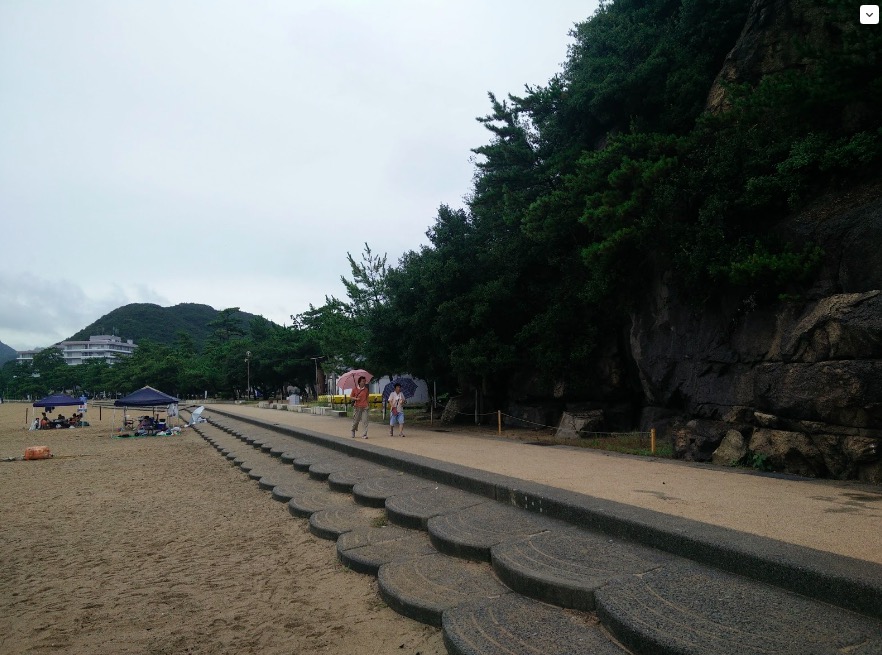 Considering the money-making opportunities that must surely exist with so few competitors, what's especially nice for us about this one is that even in the height of summer it just isn't nearly as built up and commercialized as we expected.
The beach is bare of bars, yakisoba stops and inflatable unicorn rubber ring rental (if you've seen one you know what we mean), but has loads of space.
You'll find everything you could need here as a swimmer, with nice, whitish-yellow sand and friendly, calm, pretty-clearish waters.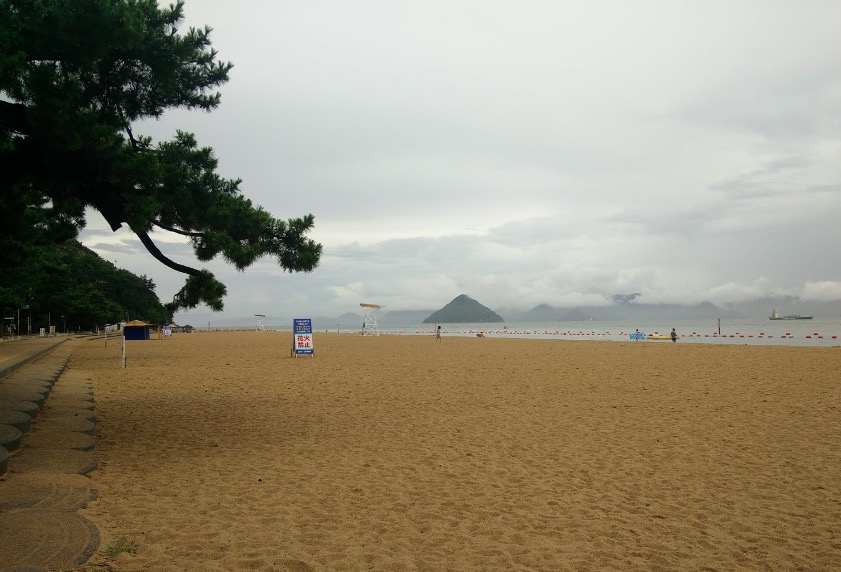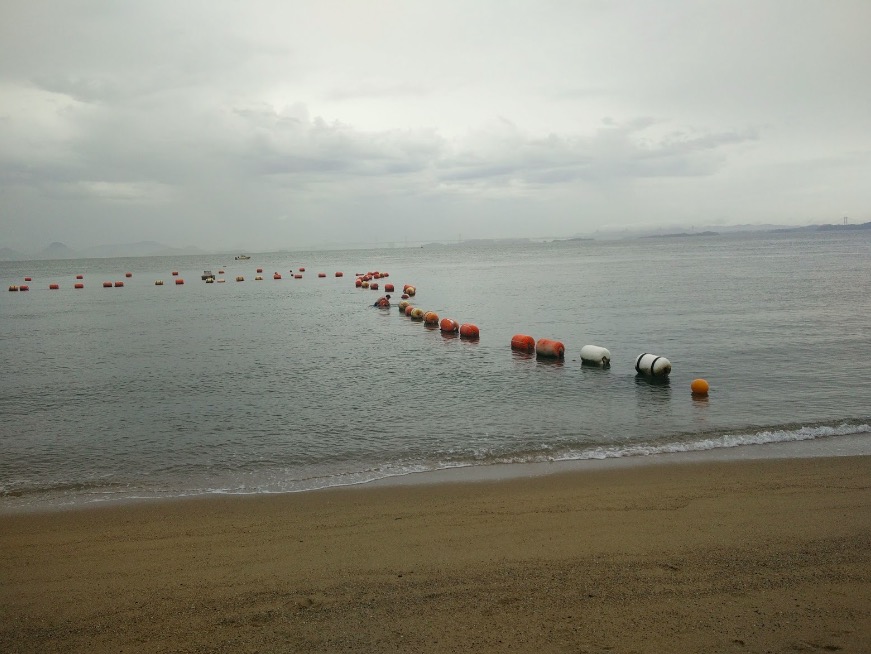 Summertime lifeguards, designated swim zones and jumping platforms await you too, and there are lovely views of the islands that dot the sea in between the Honshu and Shikoku islands. What's more, in spite of the lack of competition, it just isn't very crowded, and you'll have no problem finding room to enjoy your day.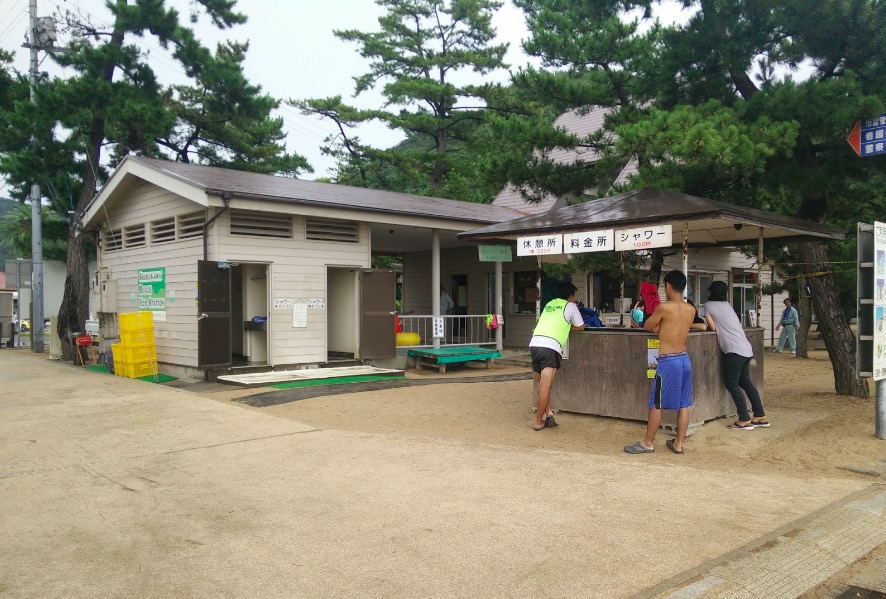 >
Where is Shibukawa Beach?
Shibukawa Beach Resort is in Tamano City (玉野市), Okayama Prefecture. A quieter part of the country, it lies in-between the Osaka-Kyoto-Kobe/Kansai urban zone and Hiroshima. This means even for those on a short stay with a JR pass, it's a great pit stop in between some of the better known tourist draws. It is also very near the famous art island, Naoshima (直島). More on that later.


How to get to Shibukawa Beach?
Seeing as Tamano City is a little out of most people's way, let's imagine you are travelling from Okayama Station (岡山駅), and the good news is it's a straightforward trip.
Take the JR train to Uno Station (this involves a change at Chayamachi Station and costs 580 JPY / around 50 minutes in total) and then the number 30 bus along the coast, which is pretty regular, the whole trip will cost you 960 JPY and take about 1h 20m. The bus from Uno being 15-20 minutes of that.
There are also direct buses too, which can drop you at the main hotel (details below) from JR Okayama Station, which at the time of writing is 950 JPY and 70 minutes.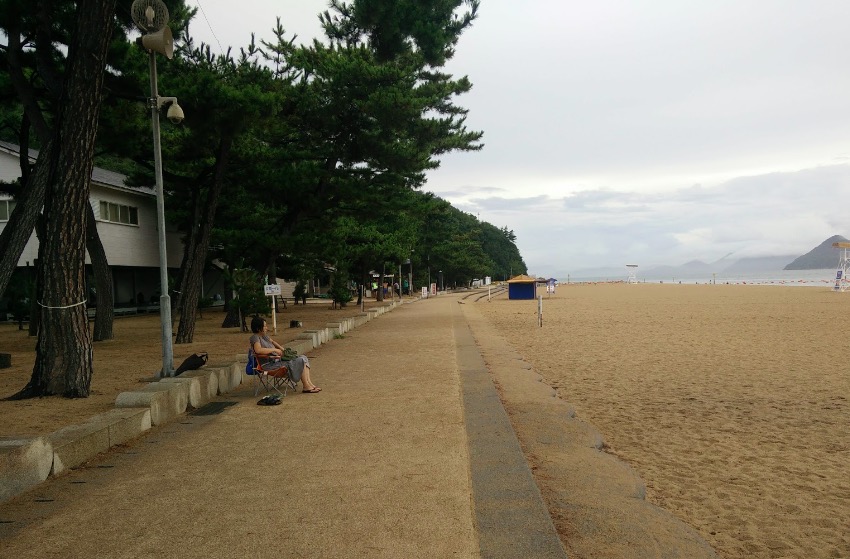 Useful bits
At around a kilometre the beach is pretty long, but we recommend you walk the whole thing, because the easternmost tip, furthest from everyone's starting points of bus stops and car parks, could for some be the most exciting bit of sand!

There is a nice little 'secret beach' which, if you look at it in the right way, you could pretend is a desert island paradise. It's a short lived fantasy though when dog walkers and the unfortunate sight of a pile of bin bags knock you back to reality. The cliffs are nice, though.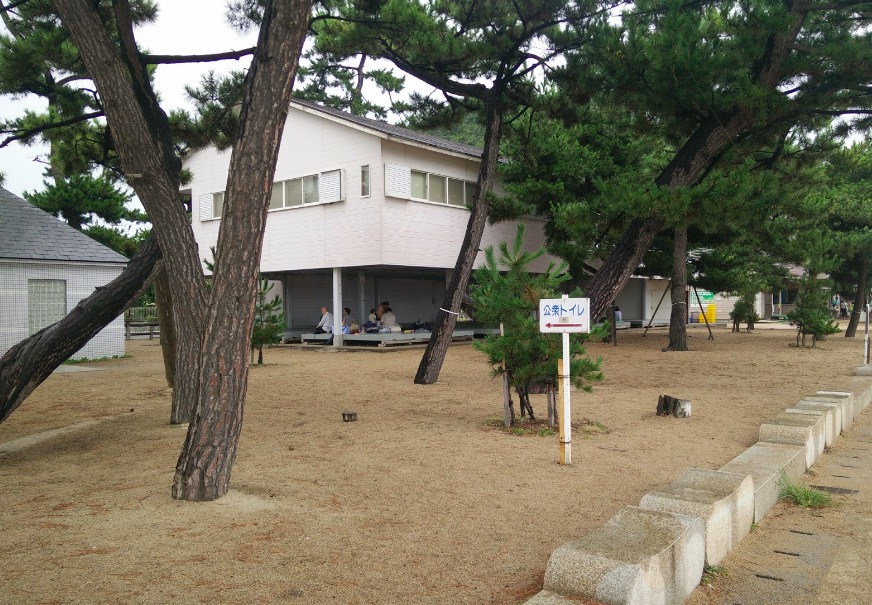 Behind that you'll find the highly convenient
Setonaikaikokuritsu Koen Shibukawa Camping Ground
(瀬戸内海国立公園渋川キャンプ場) for overnight stays in the area at a mere 2000 JPY (in high summer) with ocean views.
Right on the beach there is a large hotel which is pretty much the only big building in the area. It's called Diamond Setouchi Marine Hotel (ダイヤモンド瀬戸内マリンホテル), which sounds, and from the outside, at least, looks promising. All the more so
on this website
. It has Japanese rooms and onsen, the works!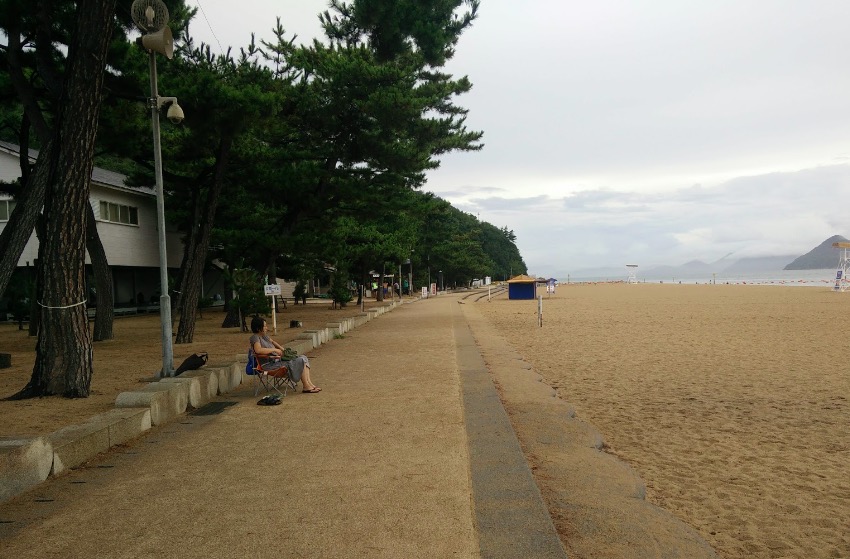 If you don't want to spend megabucks on a room to get changed in don't worry there are decent - and clean - toilet blocks right on the beach.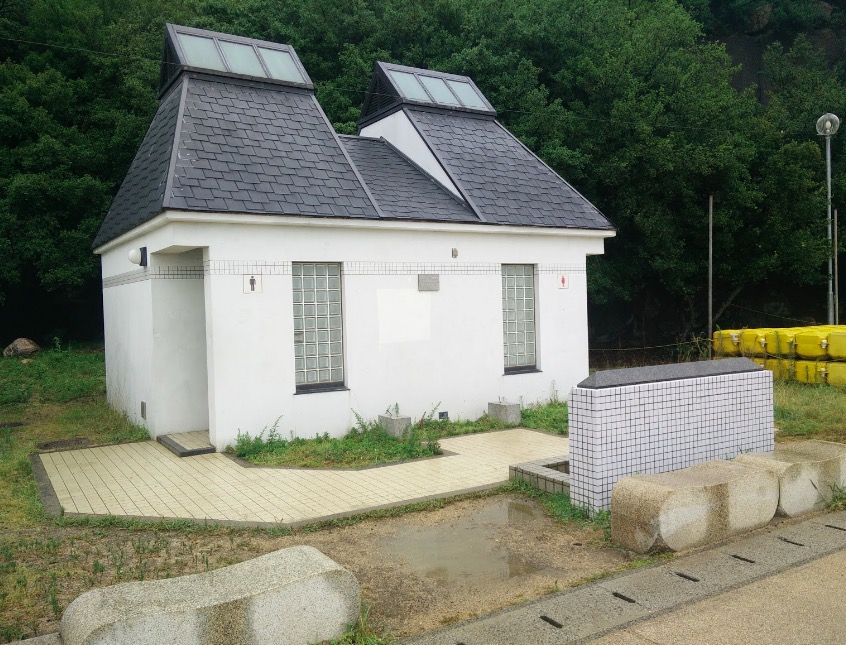 There are two restaurants we found just behind the beach near the hotel. Western food 'De Bonheur' (洋食屋さん ボヌール亭), and Tomoya, (とみや) Okonomiyaki Restaurant. Both look nice. There may be a convenience store on the map, but we didn't see one. Stock up when you can.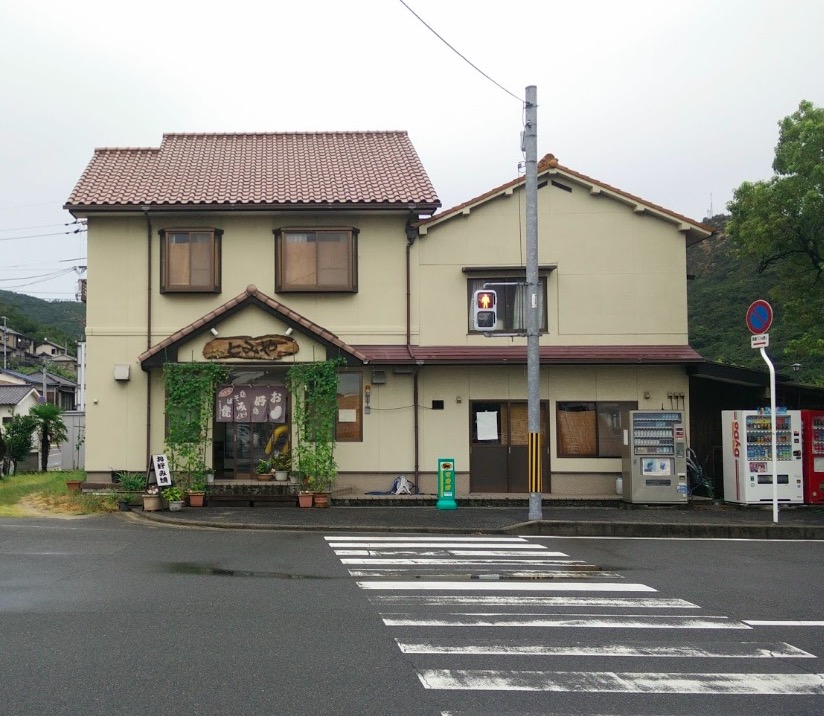 Beside the beach there is a small aquarium, which is called the City Tamanokaiyo Museum (市立玉野海洋博物館). It seems popular. We can't vouch for the conditions or the space for the animals there, but it's a very reasonable 1200 JPY for adults and not too crowded, if you want a change of scenery it may be fun.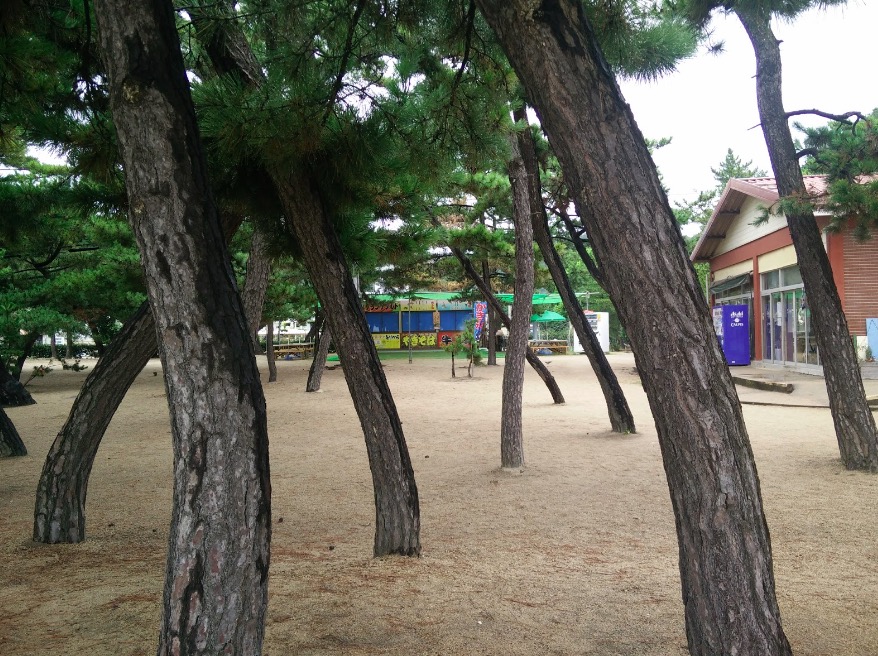 If it gets too hot the beach has lots of shaded areas with seating and relaxation space, a shrine, and a beach cafe with ice cream too. You'll find a lot of people just hanging out around under the trees.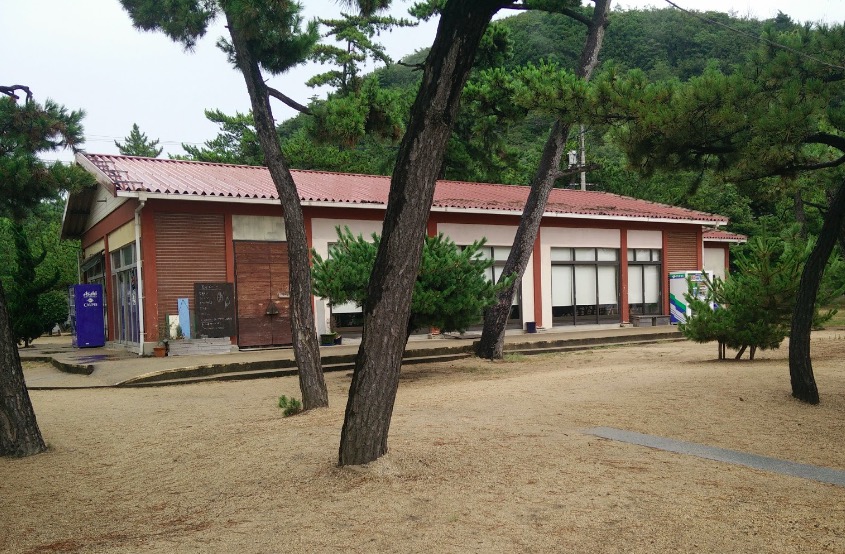 There is a special area for barbeques on the beach which seems like an excellent way to while away an afternoon.
Going to Naoshima
If you are travelling back through Uno Station at the end of the day, we can't stress enough how much you should hop on one of the regular ferries that leave there for Naoshima. It's a truly unique place in the world, an art island (the only one in the world?) with its own swimming opportunities too. Do check out our Naoshima Island Report for more info!

If you choose to go back to Okayama City at the end of your day, don't miss out on its unique, black castle (岡山城) and of course the Korakuen Garden (岡山後楽園) next to it. It's in Japan's Top Three!